Summoners War is a pretty big game, not only in terms of content that got added over the years. If we take a closer look at Summoners War on the app stores, we can see that the game is about 80 to 132.2 MB in size. However, this is not quite true.
As of May 7th, 2020, Summoners War is about 3,49 GB in size. In the files, the game application is only 83,77 MB large (version 5.3.3), but the game files are about 3,2 GB. The folder where all the monster models, icons, and particle effects are in contains 5,061 files and is 538,51 MB in size.
In the game files, we can find all the different UI designs, objects, effects, camera angles, monster designs, and more. It is also possible to find a trailer for the dimension hole and lots of other cinematics.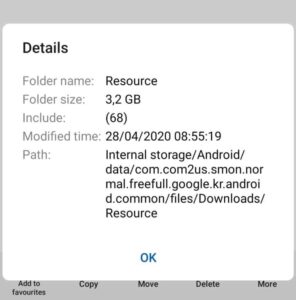 Can't play Summoners War? Here's what to do:
As Summoners War needs a lot of space, running the game on older devices can be challenging. Some devices (especially iOS) have the problem that Summoners War can not be played anymore.
There are a few reasons for this, but most of the time, they do not have enough free space on their smartphone. It is recommended to have a few hundred or ideally a few gigabytes of free space, to run the game without any issues.
If you can not play Summoners War on your phone, check out this post to see some issues (and their fixes), so you can play SW again.
How much data does Summoners War use?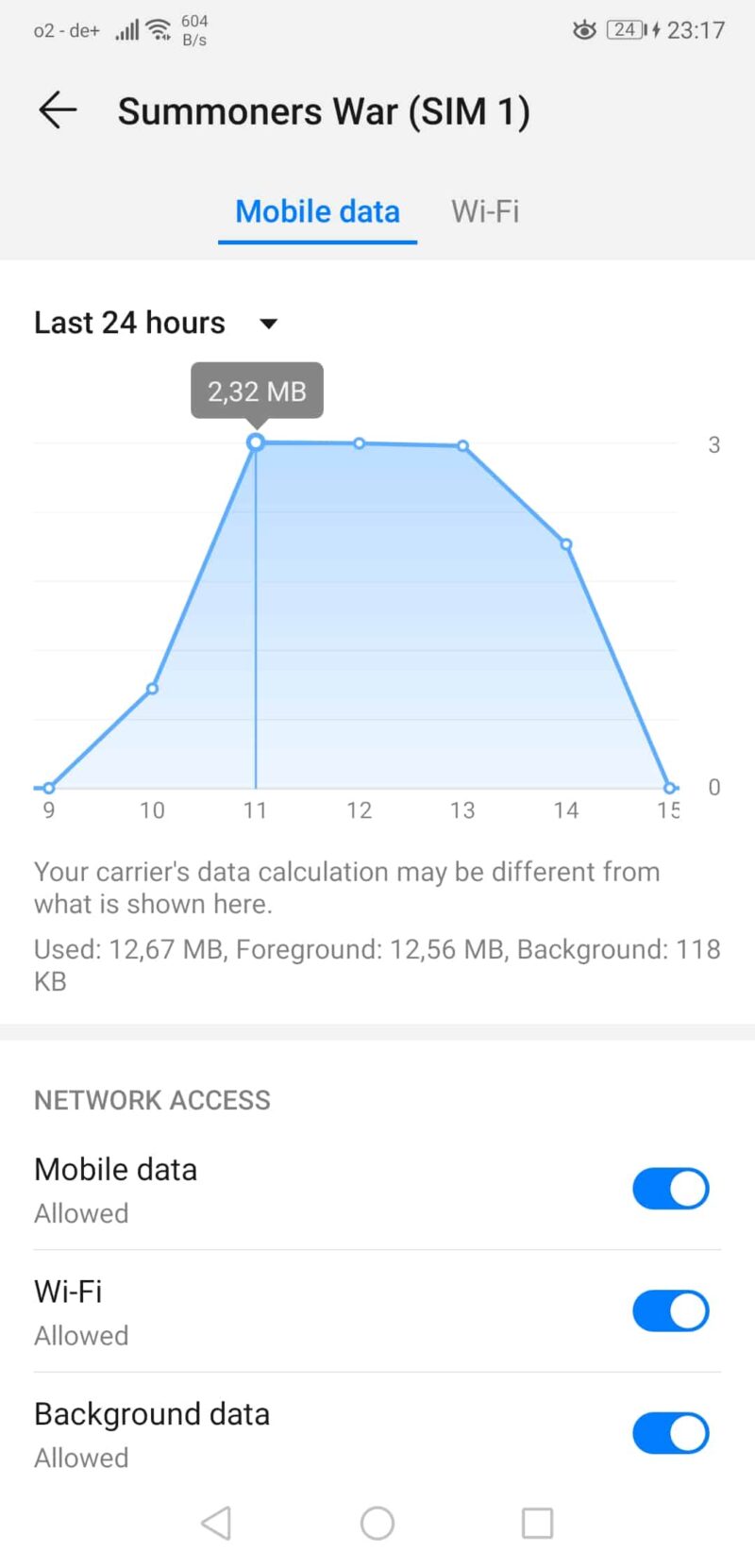 To give you a decent insight, I run the game for about 4 hours (mobile data only). In this time, I did all the daily tasks like doing guild war, arena, farming runes, and fighting the World Boss.
After about four hours of active playtime, Summoners War used 8,99 MB of mobile data, which is not that much. In comparison, the game used 13,22 MB of WiFi data over the same period.
Most of the data (99%) were used in the foreground to connect with servers and to download necessary content. Over the last 24 hours, Summoners War only used 135 KB of mobile data in the background.
Requirements for Summoners War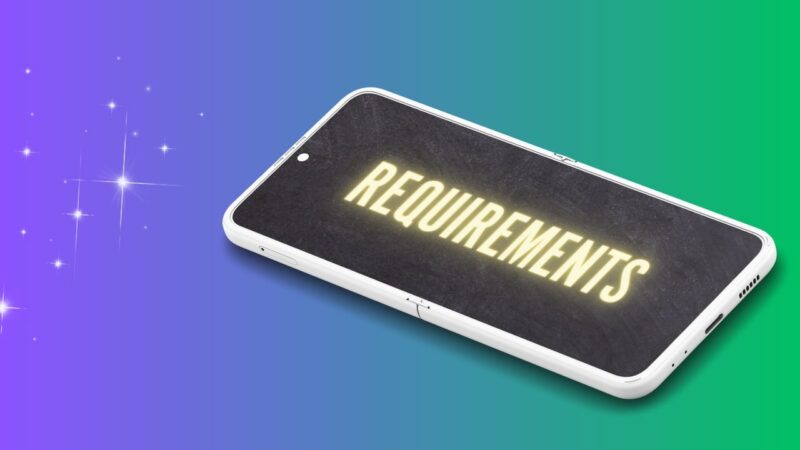 Android
Android is the most widely used mobile operating system in the world, and a significant proportion of Summoners War gamers play on Android devices.
Operating System: Android 4.1 or higher.
RAM: Minimum 1GB, although 2GB or more is recommended for smoother gameplay.
Processor: A quad-core processor, although an octa-core is recommended for the best experience.
Screen Resolution: 800×480 pixels or higher. The game supports full HD and higher resolution displays.
Storage: At least 1GB of free storage space for game data. More space might be necessary for updates.
Internet Connection: A stable internet connection is necessary as the game relies heavily on online features.
iOS
Just as with Android, iOS users comprise a substantial segment of the Summoners War community. Despite the limited range of devices compared to Android, the iOS platform still has a diverse assortment of models with different capabilities. Can an older iPhone run Summoners War?
Operating System: iOS 9.0 or later. Compatible with iPhone, iPad, and iPod touch.
RAM: Minimum 1GB, although 2GB or more is recommended for an optimal gaming experience.
Processor: A dual-core processor, with quad-core recommended for a seamless experience.
Screen Resolution: The game is optimized for Retina display, but any resolution is acceptable.
Storage: At least 1GB of free storage space for game data. More space might be necessary for updates.
Internet Connection: A stable internet connection is required as Summoners War is an online game.
Future Phone Requirements
As mobile technology advances, so does the sophistication of games like Summoners War. How might future updates affect the game's phone requirements? How should you prepare for the next wave of mobile gaming? This section offers insightful predictions and practical suggestions to keep you ahead of the curve.
The future of Summoners War may likely follow this trend. As developers introduce new characters, environments, and gameplay features, we could see an increase in the game's phone requirements. High-resolution graphics and complex game mechanics might demand more powerful processors, higher RAM, and larger storage capacities.
For gamers looking to stay ahead of the curve, investing in a high-performing phone could be a wise choice. Devices with powerful processors, ample RAM, and large storage capacities are more likely to support future updates and features of Summoners War.
Moreover, developments in mobile technology such as 5G could bring new possibilities to the game. Faster, more stable internet connections could support new online features, more competitive gameplay, and even cross-platform play. These advancements, however, may require devices that support these technologies.