Gaming got more and more popular over recent years, so many people invested some money to buy a powerful gaming system. Unfortunately, not everyone has about $1,000 for a decent gaming PC, so they use or upgrade a standard PC. But can you really use a regular PC for gaming?
Regular PC systems can be used for gaming, but they can only run less-demanding games like Minecraft or League of Legends in most cases. By upgrading to a more powerful processor, motherboard, and graphics card, the system can run demanding games like Battlefield or Call of Duty.
The higher requirements a game has, the more powerful the system has to be. To get the most out of a graphics card, it can also be overclocked, instead of buying a new one. However, overclocking should be done slowly and by an experienced person.
The difference between a regular PC and a gaming system is that gaming components can handle more data at once and can provide more hardware power. Hardware-demanding games like The Witcher, Battlefield 5, or Call of Duty: Modern Warfare require higher system settings, as such games have highly detailed graphics, many effects, and massive maps.
On the other hand, less hardware-demanding games like Minecraft or League of Legends require less powerful hardware, as their maps, effects, and graphics are much simpler and smaller, making it possible for regular PCs to run these games without any problems.
For instance, here are Minecraft's minimum system requirements, compared to Battlefield 5's and Call of Duty: Modern Warfares' minimum requirements:
Components:
Minecraft:
Battlefield 5:
Call of Duty: Modern Warfare
CPU:
Intel Core i3-3210 3.2 GHz
AMD A8-7600 APU 3.1 GHz or equivalent
AMD FX-8350 / Core i5 6600K
Intel Core i3-4340 or AMD FX-6300
RAM:
4GB
8GB
8GB
GPU:
-Intel HD Graphics 4000 (Ivy Bridge) or AMD Radeon R5 series (Kaveri line) with OpenGL 4.4*
-Nvidia GeForce 400 Series or AMD Radeon HD 7000 series with OpenGL 4.4
-NVIDIA GeForce® GTX 1050 / NVIDIA GeForce® GTX 660 2GB
-AMD Radeon™ RX 560 / HD 7850 2GB
-NVIDIA GeForce GTX 670 / GeForce GTX 1650
-Radeon HD 7950
HDD:
At least 1GB for game core, maps, and other files
50GB
175GB HD space
OS:
Windows: Windows 7 and up
macOS: Any 64-bit OS X using 10.9 Maverick or newer
Linux: Any modern 64-bit distributions from 2014 onwards
64-bit Windows 7, Windows 8.1, and Windows 10
Windows 7 64-Bit (SP1) or Windows 10 64-Bit
Connection Requirement:
Internet connectivity is required for downloading Minecraft files, afterwards offline play is possible.
512 KBPS or faster Internet connection
Broadband Internet connection
DirectX:
–
DirectX 11.0 Compatible video card or equivalent
Requires DirectX 12 compatible system
If you only want to play games that have low system requirements, you can use your regular PC for gaming. On the other hand, if you're going to play the newest AAA titles from EA, Activision, or Ubisoft, upgrading to a gaming system is needed. The average cost of a gaming system sets between $1,000-$3,000 depending on the specifications and customization.
All these minimum specifications set the threshold, at which point a game can be played without significant problems. Please note that this usually means low graphic settings, minimal particle effects, and short render distance. The recommended system requirements are set at a point where the game can be played on decent settings, with some more particle effects enabled.
If you want to know how much a full gaming setup costs, make sure to check out this article.
Is A Gaming PC Better Than A Regular PC?
As already mentioned, gaming systems provide a lot more hardware power and can handle more data at the same time, compared to regular PC components. Components that make the most significant impact on a system are the graphics card (GPU), the processor (CPU), and the motherboard.
Having powerful components like an Nvidia Geforce RTX 2080 Super not only allows you to play all games on the highest graphic settings but also to display images a lot faster. If your PC only has a weak or no graphics card, the system can't display images as quickly as with a high-end graphics card. This can also result in lags, stutter, or low FPS (Frames-Per-Second).
Another fact that speaks for a gaming PC is that a new system can last for a few years before a component needs to be swapped out. Many people buy a gaming PC mainly for work because of its high performance.
Sure, because most parts are more powerful than regular parts, they consume a bit more power. However, by choosing a Platinum or Gold certified power supply, the systems energy consumption can be lowered and optimized.
Besides all the main parts, most gaming PCs also have better cases. Such cases feature enough space for additional fans, storage and larger parts, glass side panels, and sometimes pre-installed filters and sound isolation material. Regular cases usually don't have pre-installed filters or sound isolation material, additional space for storage, fans, or larger parts, and a less appealing design.
Overall, a gaming system is a lot better than a regular PC for completing more demanding tasks and running games, thanks to more powerful components.
What Kind Of Computer Do I Need For Gaming?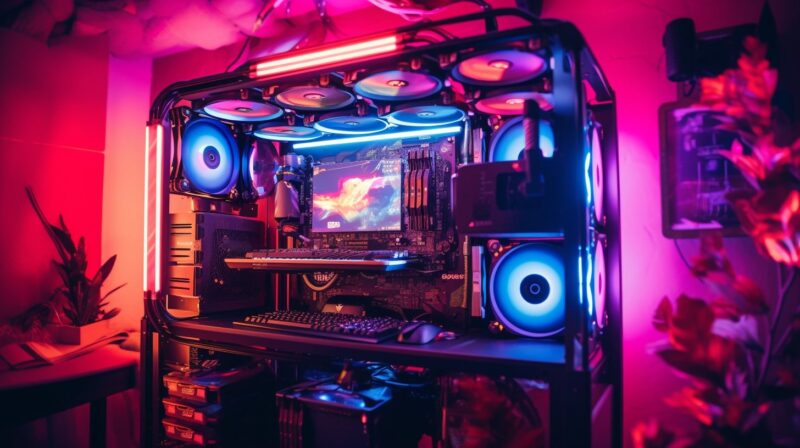 What kind of PC you need depends on the games and programs you want to play and use. Hardware-demanding games and tasks like playing games on RTX graphics or rendering videos require more powerful components, which speaks for a modern gaming system.
Games with minimal system requirements and smaller tasks like running simple office programs can be handled by a regular PC. If you want to play a bit more demanding games or complete more challenging tasks like rendering, upgrading your old system could make sense.
Before purchasing or upgrading a system, you should know what you want to do with it. Here are a few points to consider:
Am I buying this PC only to play games, or do I use it for work as well?
What games do I want to play?
Are these games hardware demanding?
Do I want a future-proof system that can run all games on the highest graphic settings (maybe with active RayTracing)
Do I intend to do anything other than play games, like streaming or video rendering?
If you're going for a brand new gaming rig, you have to decide if you want to buy a finished system or build one yourself. Going for a finished system is recommended if you don't have enough time to search for parts and built them together. Also, most companies that sell such complete gaming setups give you a 1-2 year warranty, so you will be covered if there is a problem.
With the DIY option, you can get the most performance for your money, as you can customize the entire system and chose which parts you want to use. Also, building a PC is a lot of fun.
Conclusion
Deciding on the kind of computer you need for gaming heavily relies on the games you want to play and the tasks you intend to complete. If your use-case is simple and limited to less demanding games or tasks, a regular PC may suffice. However, if you want to future-proof your system for upcoming games or tasks like video rendering, a gaming PC is the way to go.
Choosing between a pre-built system and building your own depends on factors such as time, effort, and technical skills you're willing to invest. Both options have their pros and cons, so understanding your needs and priorities is vital.
Regardless of the choice you make, a computer should align with your gaming needs, your work requirements, and your budget. After all, the end goal is to enhance your gaming experience and possibly your productivity too, making every penny you invest worthwhile.