From time to time, Im searching for some new games to play, or even take a look at some games that I played in the past. Gardenscapes is one of the games I played quite some time in the past, and I found it at the play store again a few days ago.
Match-3 games are a trendy game type that gets downloaded millions of times over time. With over 100 million downloads, Playrix created a successful mobile game for everyone who likes to match blocks.
As I played this game a while ago, this Gardenscapes Reviews takes a closer look at how the game performs over the long term, fun, graphics, and more, so if your interested in this game is worth being on your smartphone, read on.
Is Gardenscapes a decent match-3 game?
There are dozens of excellent match-3 games out there that you can choose from, like Homescapes or Candy Crush. So why we should select Gardenscapes above Candy Crush or another game.
Well, if you played some other games from Playrix, you know that they like to use a specific feature in their games. In Gardenscapes, you not only play normal match-3 levels, but you also renovate and re-design the backyard of Austin's villa.
Note: In Homescapes, you're renovating everything inside the villa, and also some other areas around the house.
In this video, you can see how your garden could look like
This is one of the big plus points that this game has, as this feature is only used by them so far. When you start the game for the time, it will show you a small animated video to tell you a short story about Austin. After that, it will introduce you to the mechanics of the game (so how everything works).
By clearing a level, you get a star that is required to complete tasks that Austin comes up with. Thes can range from planting flowers, building a treehouse, to removing trash.
The garden that you will renovate is also not that small, as it is divided into multiple areas that you unlock over time. In each area, you can decide what materials, types, and designs (of fountains, plants, fences, etc.) you want to use to it look new again. However, you can't add new things to the garden.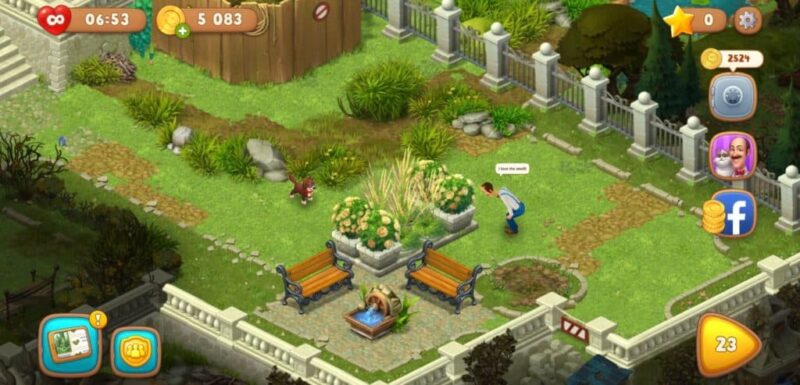 To bring up some variety into the game, Austin comes up with different tasks for you, so you're not working on one thing at the time. When I played Gardenscapes, I'd like to complete the tasks that cost only one star.
Yes, tasks also vary on how much stars you need to complete them. For example, replacing some flowers cost one star, but rebuilding a treehouse takes up two to three stars. From time to time, completing tasks also takes a few minutes, but luckily, we can play some more levels at that time.
But let's come to the gameplay of the levels:
Gardenscapes follows the standard rules and mechanics of match-3 games, so to "pop" blocks, you'll have to bring 3 identical ones in a row. If you can match four or more identical blocks, you can get power-ups like rockets, bombs, TNT, or rainbow blasts.
If you clear more and more levels, the game will come up with new blocks or mechanics that can make it more challenging to fulfill all the requirements. Chains, water holes, or acorns are only a few of them.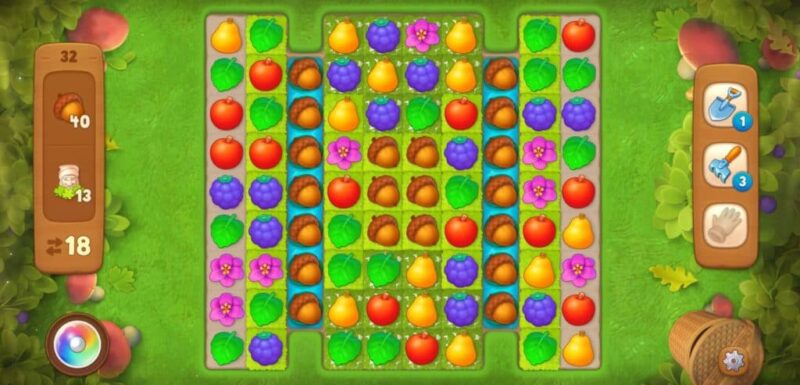 Most match-3 games I've played so far had the problem that they are too easy for a long time. Luckily, Gardenscapes has a good mix of easier and hard levels to come up with. For example, level 29 is a pretty tricky level to pass, without using some power-ups. I spend one of my rainbow blasts on this level (since I failed four times), but if you don't want to waste these power-ups, you probably need some luck.
Having such levels is not a bad thing, as it makes this game more playable (in my opinion), as people don't rush through all levels and call it a day.
However, there are moments where you need to use some mini power-ups like the shovel, to complete the level.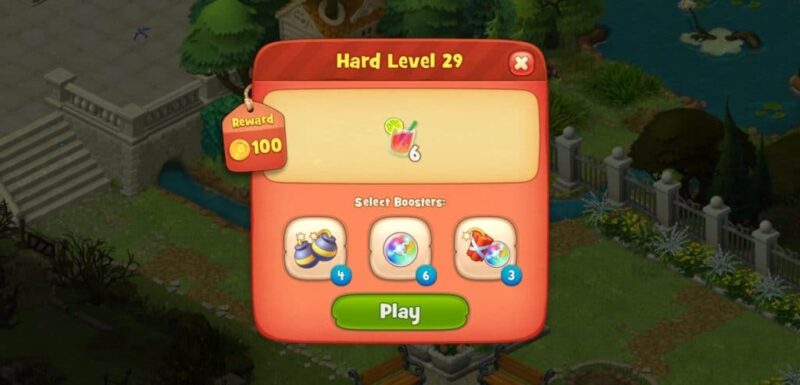 Note: There are two types of power-ups in the game; Rainbow Blasts, which can be activated before starting a level. During the level, you can use shovels, rakes, or gloves to eighter destroy specific blocks or whole lines.
Honestly, without them, I would have thrown my phone through the wall at some levels. However, the game makes a lot of fun to play, and it's a little bit addictive, to be honest. Especially decorating the garden is an excellent feature and a nice variety to the games I regularly play.
From time to time, there are special events to get more power-ups or coins. You can also spin on a wheel one time per day to claim a decent reward. After unlocking the third area of the garden, you also unlock garden cash and a season pass. With garden cash, you can buy unique designs for your areas, making them more outstanding.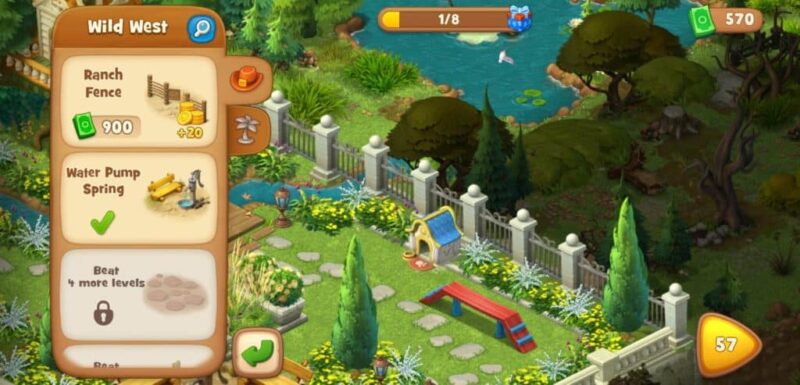 You can get this currency by clearing hard levels, so you can change whole areas or specific things. But you can't buy all "skins" immediately since you have to clear a certain amount of stages to unlock all of them.
By clearing levels, you also get points depending on how many trys you needed to clear a level. Every few points, you unlock decent rewards like power-ups, coins, or lives. If you manage to reach level 30 on the season pass, you'll get a unique item, like a profile picture. There is also an option to buy a golden ticket that gives you better rewards for each level of the battle pass, like in many other games.
How are the graphics of Gardenscapes?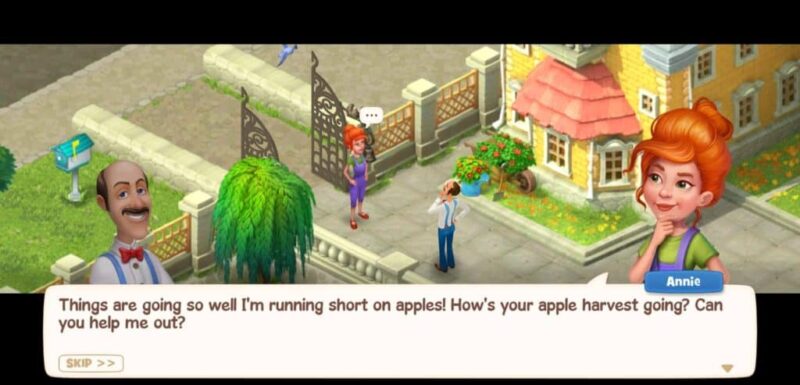 Gardenscapes looks very colorful and eye appealing, especially when you unlock and decorate more areas. Also, flowers, trees, bushes, etc. are very detailed, so even if you zoom in, there are no ugly errors (at least I didn't found any).
During a level, the overview looks very pretty and not completely overwhelming. Every time you match some pieces, you also get a little animation, which adds some effects to the game.
Same goes on if you use shovels, rakes, TNT, or rainbow blasts, as every power-up has their own (good looking) animation. So, Gardenscapes not only makes a lot of fun to play, but it is also very lovely to look at.
Gardenscapes monetization:
If we can play a game for free, developers have to make their money elsewhere. Most of the time, players can buy some in-game items, skins, coins, or some currency.
So far, there is only one way on how you can spend money on the game; coin packages. There are quite some of them, so everyone can find a package that suits his needs. Also, many packages include multiple power-ups, which makes these packages more appealing to players.
There is also a Gold Reserve that you could also buy for some bucks, but I would instead choose a coin package that costs the same (and has power-ups included).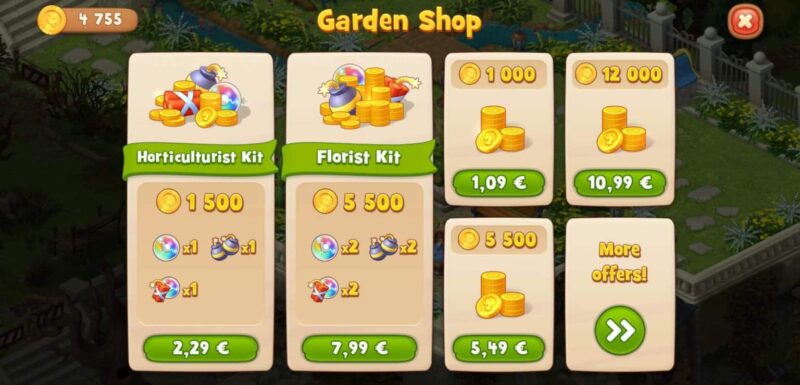 The prices per package vary widely, but there are some cheap packages, and also some that cost a lot of money (the most expensive pack costs 110€). There are some other ways that you can use to get some extra coins, like connecting with Facebook, solving a puzzle, or playing other games from Playrix.
Note: It is funny as Gardenscapes got advertised with some kind of puzzle thing. I have no clue why Playrix chose this type of ads for their game as it doesn't show the real game (or even some gameplay). However, they added a puzzle "mini-game" that you can solve to get some extra coins.
But is it worth spending money on this game? I would say no, as there is no hurry to finish a level in a fixed period. Gardenscapes can be played literally everywhere, so if you fail a couple of times, just wait a few hours and do something else.
Is Gardenscapes as good as Homescapes?
Homescapes is an excellent game (also created by Playrix), and I created a review about it too. By the way, if you are interested in it, check it out here. As both games got created by the same developer and feature the same character, it shows many similarities between each other.
In Homescapes, you can design the inside of the villa and some other areas (like the garage), and play levels based on the same principle as Gardensapes. Here's a small fun fact that I recognized: here in Gardenscapes, Austin adopts a young puppy (mine got named General Doggo), and in Homescapes, he adopts a cat.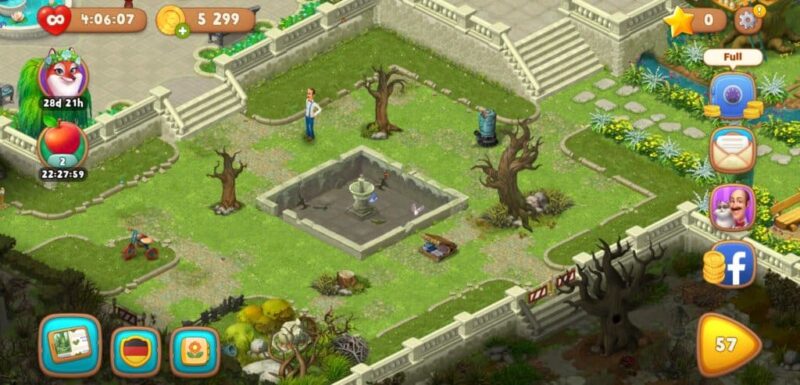 I played Homescapes, not only for my review. Some of my friends at work played this game every time at lunch, so I also played a few levels. At home, I downloaded the app and played for about one hour.
Both games are very similar, but they are excellent match-3 games, in my opinion. Homescapes gets more into the details of the family and how Austin got back to his original home, and Gardenscapes takes place after renovating the villa (this is a guess since the house looks pretty new).
Is Gardenscapes worth it?
If you read this whole Gardenscapes review, I think that you already recognized that I like this game and its design. Today, I cleared 44 levels (wasn't much to do at work ?), and it was pretty fun and excellent to cut some time. However, there were also some levels I got stuck (failed a few times and had to wait to recover lives), but I re-designed some areas of the garden at that time.
Probably, you will also get stuck at some levels and play it a few times. So, don't throw your phone away if you get stuck sometimes. Besides this, I can highly recommend giving this game a shot.
If you played Gardenscapes previously, feel free to share your experience with me, and how far you're at the game. I joined a group of players, and some of them are over level 5300, so I guess I have to catch up a bit.
---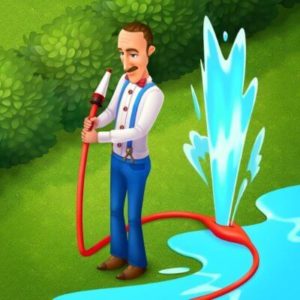 ---
| | |
| --- | --- |
| ?? Pros of Gardenscapes: | ?? Cons of Gardenscapes: |
| Fun to play | Coin packages are expensive |
| Challenging levels | False advertising of the game |
| Awesome graphics | |
| Designing your own virtual paradise | |
| Playable over a long time | |
Frequently Asked Questions
1. What makes Gardenscapes unique compared to other match-3 games?
Gardenscapes stands out from other match-3 games due to its unique feature of allowing players to renovate and re-design a garden. This aspect of the game adds an extra layer of engagement and creativity, making it more than just a typical match-3 game.
2. How does the difficulty level progress in Gardenscapes?
Gardenscapes offers a balanced mix of easy and hard levels. As you progress in the game, new blocks or mechanics are introduced, making the levels more challenging. This ensures that the game remains engaging and doesn't become too easy over time.
3. Are there any special events or features in Gardenscapes?
Yes, Gardenscapes regularly hosts special events where players can earn more power-ups or coins. Additionally, the game features a daily spin wheel for rewards and a season pass system, providing players with a variety of ways to earn rewards and enhance their gaming experience.
4. How does the in-game currency work in Gardenscapes?
In Gardenscapes, players earn stars by clearing levels. These stars are then used to complete tasks within the game, such as planting flowers or building a treehouse. The game also features garden cash, which can be used to buy unique designs for your garden areas.
5. Is Gardenscapes similar to Homescapes?
Both Gardenscapes and Homescapes are created by the same developer, Playrix, and feature the same character, Austin. While the games share many similarities, they each have their unique aspects. In Homescapes, players focus on renovating the interior of a villa, while in Gardenscapes, the focus is on restoring and decorating a garden.
6. Does Gardenscapes offer any in-app purchases?
Yes, Gardenscapes offers in-app purchases in the form of coin packages. These packages often include multiple power-ups, adding more value for the players. However, the game can be enjoyed without making any purchases, as there is no rush to complete levels within a fixed time period.
Does Gardenscapes have an ending?
As of now, Gardenscapes does not have a definitive ending. The game continues to evolve with the release of new levels and areas by the developers, Playrix. Once a player completes all available levels and renovates all areas of the garden, they must wait for new content to be released to continue the story of Austin, the game's main character.
More screenshots from the game: