Both Gardenscapes and Homescapes got developed and released by the same developer Playrix. If we take a closer look at these games, we can spot many similarities, not only in terms of the characters we see. I played both games for a good time and wrote some reviews about them too. But today, let us take a look at which of these two games is better.
First, we take a look and the overall visuals of Home-/Gardenscapes. After that, we test the gameplay (and other stuff that we can do in the game), and for the last point, the in-game monetization.
Do Homescapes or Gardenscapes Look Better?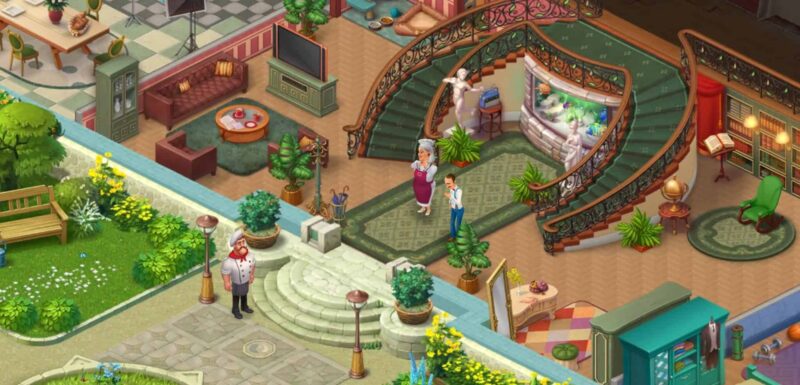 As Home-/Gardenscapes come from the same developer, both games share the same colorful cartoon style. Menus, the level design, characters, and smaller details are very similar (or identical), but when it comes to pure decoration, I would say that Homescapes has a bit more to offer than its counterpart.
Overall, both games are not far away from each other, so it comes down to your preferences; do you want to renovate a massive mansion, or either an enormous garden?
Which Game Has Better Gameplay?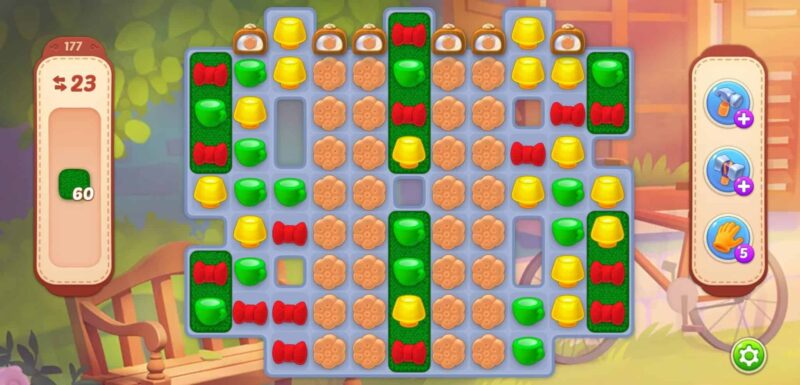 If you test Homescapes and Gardenscapes for a while, you will notice that both games seem very similar. Still, they are not on the same level of difficulty. Gardenscapes levels are not particularly difficult, but some levels take a few tries to complete.
On the other hand, Homescapes levels feel harder in comparison to Gardenscapes. Many more levels are harder to complete, especially Hard and Super Hard levels. Sometimes, I had to try these levels 10 times to complete them. In Gardenscapes, I did not have this experience.
If you want a challenging match-3 game, I instead recommend taking a look at Homescapes (review).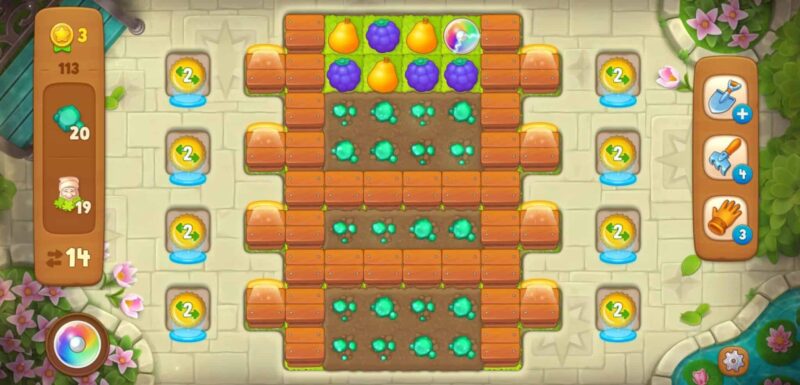 But how is the gameplay, besides the regular match-3 levels? Well, Homescapes and Gardenscapes enable us to renovate a massive area and design it how we like. In both games, we can replace current decorations with some varieties, but Gardenscapes offers us the opportunity to buy unique designs with a new currency (which can be earned by completing hard levels).
Homescapes does not offer such a feature, so Gardenscapes has more to offer in this aspect. Also, in Gardenscapes, we can unlock over 19 different areas, ranging from multiple areas on the property to a guest house, a theater area, and much more.
In Homescapes, we can not unlock as many areas as in Gardenscapes, but still, Homescapes offers a decent amount of content to unlock.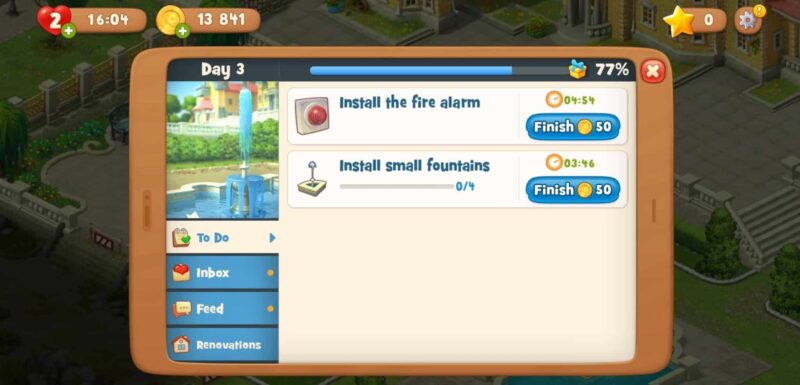 To keep the player base happy, Playrix also introduces new events regularly, like competitions, or a season pass. Playing the game during events enables us to collect new items, pets, coins, or power-ups that we can use in levels. However, Homescapes received the season pass much earlier, which is a plus for the game.
Overall, both games are fun to play, and pretty addicting to be honest. I really like the renovating aspect of both games, but it takes some time to unlock all the areas. If you are looking for a match-3 puzzle game that you can play for a long time, I recommend taking a closer look at Gardenscapes (review).
How Are Homescapes and Gardenscapes Monetized?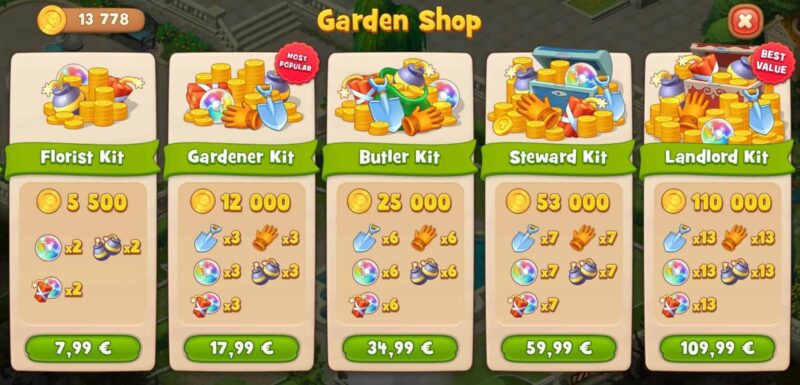 Both games offer the option to buy coins and extra bonuses via real money. For example, you could buy the Golden Ticket to get more rewards from the season pass, and some exclusive items like pets.
Also, Playrix offers packages for coins or entire bundles, that can cost up to $100. Luckily, there are no video ads in the game, and you can unlock everything in the game for free (but more time needs to be invested!).
Especially Homescapes encourages players to spend some money, as there are levels that are extremely hard to complete, especially without any power-ups.
The Verdict:
Homescapes and Gardenscapes, both have their pros and cons, but they are good mobile games. Gardenscapes shines with lots of content and Homescapes with challenging levels. If you are looking for a long-term puzzle game, Gardenscapes should be your choice, as you do not miss out on a lot of features that Homescapes offers.
On the other hand, Homecapes is much more challenging than Gardenscapes and offers many features. And don't worry, Home-/and Gardenscapes still get updated and receive new levels regularly.
If you want to learn more about, if these games have an ending, make sure to check out this post, where I explain everything in detail.
Conclusion
As we draw the curtain on this digital duel between Homescapes and Gardenscapes, it's clear that both games have carved out their unique niches in the mobile gaming landscape. They share a common DNA, being the brainchildren of Playrix, and both games offer a vibrant, colorful world filled with engaging match-3 puzzles and a captivating storyline.
In the realm of aesthetics, both games are a feast for the eyes with their cartoonish charm and attention to detail. Homescapes, with its focus on interior decoration, offers a slightly richer palette of options for aesthetically inclined players. However, the choice between renovating a sprawling mansion or a lush