Having a decent-sized desk is really important as we need enough space for multiple monitors, mouse, keyboard, and maybe for the PC. When we take a look at Amazon or other manufacturers' websites, we can purchase gaming desks in many variations. However, building your own gaming desk is usually the better choice, as you can customize it to your needs and available space.
Building a gaming desk can cost between $100 – $400 depending on what materials will get used, and how large the desk should be. Extras like using high-quality wood or thick glass as the top or installing RGB lights will increase the overall price of the build.
Luckily, building a gaming desk does not have to cost a lot of money, as IKEA sells some excellent table/drawer combinations for a low price. To make my own PC desk, I spend 213,46€, so around $220. For the top plate, I bought the Pinnarp Walnut Countertop and two Alex drawer units.
I chose this size as I wanted a lot of space for gaming and so I could also use this desk for my side business. I could add a third monitor to my collection and place my old consoles on it too.
If you do not have a lot of money available for a gaming desk, you can easily cut down the costs by purchasing used drawers, table legs, and countertops. If you have experience with woodworking and some tools, you can save even more money, while creating a unique table.
What Materials To Use For A Gaming Desk?
The most used materials for gaming desks are wood, plastic, glass, and steel. Depending on the desk's size and which type of desk it should be, manufacturers like to use thin steel and fiberboard, which is cheap and durable.
For a durable gaming desk that can last for many years, it is recommended to use durable wood like Oak or Beech. Both of these wood types are very durable and have an excellent look. For a more unique design, going for a kitchen countertop is recommended.
You can choose wood, steel, or aluminum for the legs but stay away from thin plastic. The legs have to be strong enough to carry everything on the table, plus the tabletop itself.
If you want to use steel and other metals to build your gaming desk, make sure the metal is painted or is immune to corrosion. The best option to go for is stainless steel or aluminum, as both of them are very durable and can't rust over time.
If you want to use glass for the table, going for scratch-resistant glass is highly recommended, as glass plates are quite expensive to replace, and scratches can be spotted very easily. Also, make sure it is thick enough to carry everything on your desk.
Where Do I Buy The Materials for The Gaming Desk?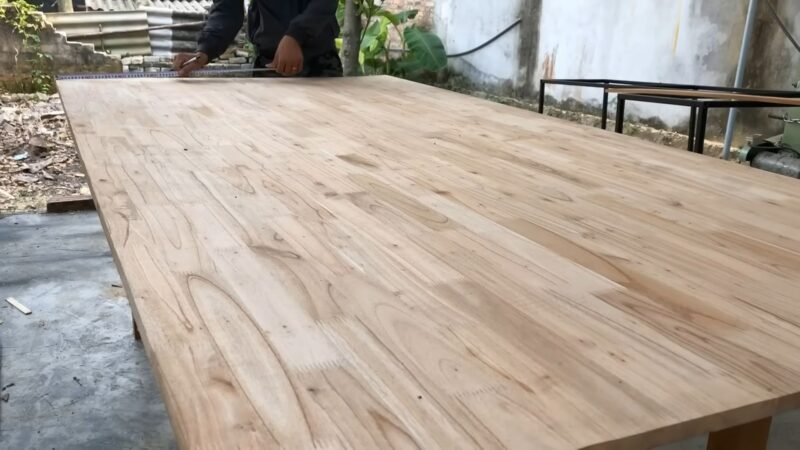 Most of the required materials to build a gaming desk can be found at your local Home Depot unless you want more special materials like stainless steel. In case the desk is constructed entirely out of wood, visiting a woodworking shop or other specialized shops is recommended.
There are other places where you can look for parts for the desk, like Facebook Marketplace or Craigslist. I wouldn't recommend purchasing wood, glass, or steel from big retailers like Amazon, as chances are high that you get low-quality products. Instead, search for specialized online stores or local stores near your position, to get wood, glass, and steel.
How Long Does It Take To Build A Desk?
To build a purchased desk from a manufacturer, it takes about 30-60 minutes for the entire desk. Depending on the desk size and additional features like drawers, it can take up to 2 hours.
Creating and building a custom desk can take 1-7 days or more, depending on the size and features the table should have. For instance, if you want to integrate impressive lightning, a wireless phone charger, separate monitor stands, or a special coating, you have to invest a lot of time.
Because building a desk can take a long time, purchasing a table/leg combination from IKEA is recommended, if you need the desk fast.
Is it cheaper to build a Desk or buy one?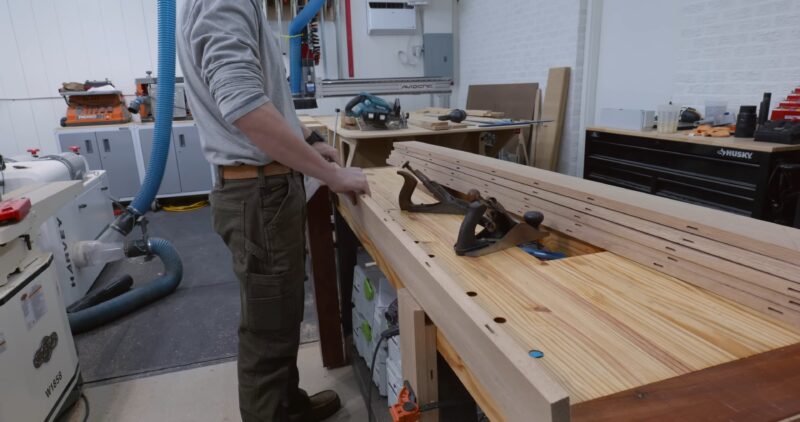 When building a desk, some tools are required, which not everyone has. Having some woodworking tools and experience in the woodworking area would be recommended for a more custom desk. Without tools, building a desk will be harder to do or more expensive.
On the other hand, building the desk on your own gives you the option to use high-quality wood, which is not really used in regular tables that can be purchased on Amazon or other retailer websites.
My desk is straightforward and can easily be replicated by purchasing the same drawers and countertop. If I bought all the materials myself, I could have saved quite some money and probably had a more fancy gaming setup.
Building a desk is usually cheaper than buying a finished table from shops. Retailers sell their tables for a lot more than they are actually worth, in addition to already cheap production costs. With a self-made desk, you can choose each material you want to use, and buy it for a reasonable price from a shop or online.
Frequently Asked Questions (FAQs)
1. I'm no woodworking expert, but I'm up for a DIY project. Is it okay to build a gaming desk with basic tools?
Absolutely! While it's handy to have some woodworking experience, it's not mandatory. A bit of creativity and some basic tools like a saw, a screwdriver, and a drill can go a long way. It's all about choosing a design that aligns with your skill level.
2. I'm not into gaming. Will this type of desk work for a home office setup?
Indeed! Gaming desks are not just for gamers. Their ample surface area and robust design make them ideal for multi-monitor setups or extensive paperwork. Plus, the style factor can spruce up your workspace too!
3. What precautions should I take if I opt for a glass-top desk?
Handling glass can be tricky. Make sure to pick a thick, scratch-resistant variant for durability. When assembling, ensure to handle it with care to avoid accidents. Once ready, keep heavy objects away from the edge of the desk to avoid pressure cracks.
4. How can I personalize my gaming desk for a cool look?
From installing funky RGB lighting, and custom-built monitor stands to incorporating a wireless charger, there are countless ways to pimp up your desk. Go ahead, let your imagination run wild!