Pocket Mortys is all about catching and training Mortys in the campaign and multiplayer mode. As Pocket Mortys is a parody to the Pokemon franchise, we can also evolve Morty into stronger versions of himself.
However, it works a bit differently from other Pokemon-style games, as it is not just training Morty to a specific level. To evolve our Morty, we need a second identical Morty. Depending on how rare your Morty is, it could take a while to catch or make a second one.
After you have caught a copy, you need to visit Rick's daycare, which is an orange building and can be found near the Council of Ricks. When you found it, enter Rick's Day-care and tap on the combine. After that, select two identical Mortys that you want to combine, and after a short animation, they fusion into a new type of Morty.
How to evolve Mortys in Pocket Mortys multiplayer?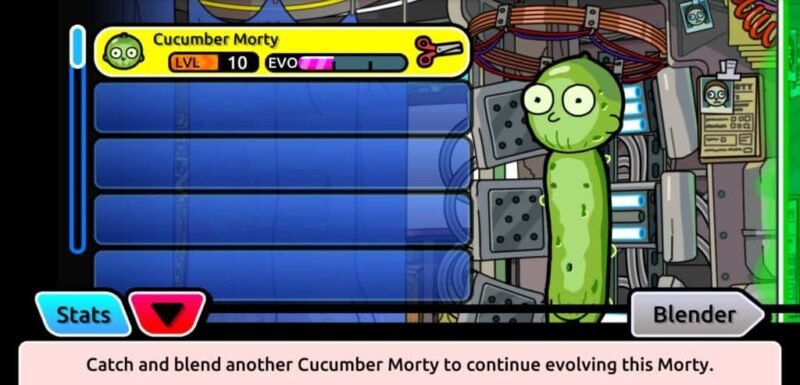 It is also possible to evolve Mortys in multiplayer mode. Like in the campaign, you need identical Mortys to evolve them into a stronger version. However, to evolve them in the multiplayer, you need much more of them.
For example, to evolve Cucumber Morty into Pickle Morty, we need to catch 4 Cucumber Mortys in total. After we have found them (reasonably easy to do), we need to visit Rick's daycare and blend three of our Cucumber Mortys. But before you start blending, take a look at the stats of your Mortys, so you do not feed the one with the best stats.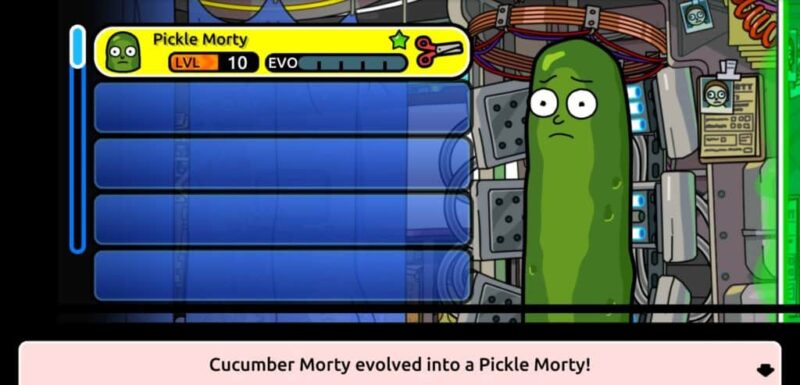 When we got Pickle Morty, we could evolve him through the same process as Pickled Morty (but we need 5 Pickle Mortys). By evolving Mortys, they not only increase their stats, but also increase their rarity to the next level (Common
 Rare 
 Epic).
Note: In campaign mode, every time you evolve a Morty, they receive a small increase of levels. Unfortunately, this is not the case in multiplayer. Each time you blend Mortys, you're stuck with whatever level you evolved on first.
What pocket Mortys can be combined?
| | | | | | |
| --- | --- | --- | --- | --- | --- |
| 1st Evolution | 2nd Evolution | 3rd Evolution | 4th Evolution | 5th Evolution | 6th Evolution |
| #002 – Scruffy Morty | #003 – Unkempt Morty | #004 – Hobo Morty | – | – | – |
| #005 – Old Morty | #006 – Geriatric Morty | #007 – Ancient Morty | – | – | – |
| #008 – Rabbit Morty | #009 – Evil Rabbit Morty | – | – | – | – |
| #010 – No Eye Morty | #011 – One Eye Morty | #012 – Three Eye Morty | – | – | – |
| #013 – Test X1 Morty | #014 – Test X46 Morty | #015 – Test X72 Morty | – | – | – |
| #016 – Self-Defense Morty | #017 – Karate Morty | #018 – No Mercy Morty | – | – | – |
| #019 – Mustache Morty | #020 – Beard Morty | #021 – Hipster Morty | – | – | – |
| #022 – Ad Space Morty | #023 – Jerry's Game Morty | #024 – Pocket Mortys Morty | – | – | – |
| #025 – Blue Shirt Morty | #026 – Red Shirt Morty | #027 – Orange Shirt Morty | #028 – Green Shirt Morty | #029 – Purple Shirt Morty | #030 – Rainbow Shirt Morty |
| #031 – Exo-Alpha Morty | #032 – Exo-Omega Morty | #033 – Exo-Prime Morty | – | – | – |
| #034 – Spoon Morty | #035 – Fork Morty | #036 – Spork Morty | – | – | – |
| #037 – Peace Morty | #038 – Hippie Morty | #039 – Off The Grid Morty | – | – | – |
| #040 – Big Head Morty | #041 – Giant Head Morty | #042 – Colossal Head Morty | – | – | – |
| #043 – Spooky Morty | #044 – Ghostly Morty | #045 – Phantom Morty | – | – | – |
| #046 – Double Morty | #047 – Triple Morty | #048 – Multi Morty | – | – | – |
| #049 – Greaser Morty | #050 – Biker Morty | – | – | – | – |
| #051 – Stray Cat Morty | #052 – Two Cat Morty | #053 – Crazy Cat Morty | – | – | – |
| #054 – Buff Morty | #055 – Wrestler Morty | – | – | – | – |
| #056 – Veiny Morty | #057 – No Skin Morty | #058 – Skeleton Morty | – | – | – |
| #059 – Magic Morty | #060 – Mystic Morty | #061 – Wizard Morty | – | – | – |
| #062 – Telepathic Morty | #063 – Telekinetic Morty | #064 – Psychokinetic Morty | – | – | – |
| #065 – Swimmer Morty | #066 – Mermaid Morty | #067 – Reverse Mermaid Morty | – | – | – |
| #081 – Egg Morty | #082 – The One True Morty | – | – | – | – |
| #083 – V Neck Morty | #084 – Tank Top Morty | – | – | – | – |
| #085 – Mullet Morty | #086 – Chops Morty | #087 – Afro Morty | – | – | – |
| #088 – Tired Morty | #089 – Sleepy Morty | #090 – Asleep Morty | – | – | – |
| #091 – Hot Morty | #092 – Flaming Morty | – | – | – | – |
| #093 – Cold Morty | #094 – Frozen Morty | – | – | – | – |
| #095 – Flu Morty | #096 – Mutant Flu Morty | – | – | – | – |
| #097 – Diamond Eyes Morty | #098 – Cocoon Morty | #099 – Butterfly Morty | – | – | – |
| #102 – Pizza Morty | #103 – Mushroom Pizza Morty | #104 – Pepperoni Pizza Morty | – | – | – |
| #105 – Unicorn Chaser Morty | #106 – Unicorn Morty | #107 – Super Unicorn Morty | – | – | – |
| #108 – Moon Morty | #109 – Sun Morty | #110 – Black Hole Morty | – | – | – |
| #112 – Single Snoozle Morty | #113 – Double Snoozle Morty | #114 – Triple Snoozle Morty | – | – | – |
| #117 – Blob Morty | #118 – Jelly Morty | #119 – Goo Morty | – | – | – |
| #120 – Infected Morty | #121 – Parasitic Morty | #122 – Host Morty | – | – | – |
| #123 – Strawberry Morty | #124 – Orange Morty | #125 – Banana Morty | – | – | – |
| #126 – Stoned Morty | #127 – Petrified Morty | #128 – Boulder Morty | – | – | – |
| #129 – Reptile Morty | #130 – Raptor Morty | #131 – Mortysaurus | – | – | – |
| #132 – Dog Bite Morty | #133 – Dog Morty | #134 – Werewolf Morty | – | – | – |
| #135 – Boot Camp Morty | #136 – Shell Shocked Morty | #137 – Renegade Morty | – | – | – |
| #143 – Summer Morty | #144 – Jerry Morty | #145 – Beth Morty | #146 – Rick Morty | – | – |
| #147 – Cabin Boy Morty | #148 – Swashbuckle Morty | #149 – Cap'n Morty | – | – | – |
| #151 – New Blood Morty | #152 – Count Morty | #153 – Old One Morty | – | – | – |
| #154 – Denim Shorts Morty | #155 – Double Denim Morty | #156 – Triple Denim Morty | – | – | – |
| #159 – Seedling Morty | #160 – Morty of the Valley | #161 – Mortydrangea | – | – | – |
| #162 – Rookie Morty | #163 – Detective Morty | #164 – Hardboiled Morty | – | – | – |
| #166 – Kitchen Boy Morty | #167 – Pastry Chef Morty | #168 – Head Chef Morty | – | – | – |
| #169 – Skin Suit Morty | #170 – Motion Capture Morty | #171 – Rainbow Suit Morty | – | – | – |
| #172 – Loner Morty | #173 – Dangerous Morty | #174 – Violent Morty | – | – | – |
| #175 – Birdosaur Morty | #176 – Volcan Morty | #177 – Prancer Morty | – | – | – |
| #179 – Survivor Morty | #180 – Survivalist Morty | #181 – Wild Man Morty | – | – | – |
| #184 – Plumbus Slave Morty | #185 – Plumbus Worker Morty | #186 – Plumbus Master Morty | – | – | – |
| #189 – Armomaly Morty | #190 – Mutagen Morty | #191 – Carcinogenic Morty | – | – | – |
| #194 – Crewman Morty | #195 – Ensign Morty | #196 – Lieutenant Morty | – | – | – |
| #200 – Lawyer Morty | #201 – Judge Morty | – | – | – | – |
| #206 – Cucumber Morty | #207 – Pickle Morty | #208 – Pickled Morty | – | – | – |
| #213 – Prisoner Morty | #214 – Felon Morty | #215 – Federation Prisoner Morty | – | – | – |
| #216 – Poorhouse Morty | #217 – Chimney Sweep Morty | #218 – Master Morty | – | – | – |
| #219 – Slime Morty | #220 – Snot Morty | #221 – Gunk Morty | – | – | – |
| #223 – Parade Morty | #224 – Pride Morty | #225 – Festival Morty | – | – | – |
| #229 – Possessed Morty | #230 – Ingested Morty | #231 – Voltamatron Morty | – | – | – |
| #236 – Froopy Shloop Morty | #237 – Froopy Bloop Morty | #238 – Froopy Moop Morty | – | – | – |
| #241 – Wonder Morty | #242 – Mighty Morty | #243 – The Dark Morty | – | – | – |
| #246 – Street Loco Morty | #247 – Soldado Loco Morty | #248 – Enforcer Loco Morty | – | – | – |
| #251 – Squid Face Morty | #252 – Tentacle Morty | #253 – Octo Morty | – | – | – |
| #256 – Pre Atlantis Morty | #257 – Atlantis Morty | #258 – Post Atlantis Morty | – | – | – |
| #260 – Cult of Morty Morty | #261 – Cult Leader Morty | #262 – Grand Sage Morty | – | – | – |
| #265 – Ronin Morty | #266 – Samurai Morty | #267 – Shogun Morty | – | – | – |
| #269 – Stool Morty | #270 – Wooden Chair Morty | #271 – Arm Chair Morty | – | – | – |
| #274 – Good Time Morty | #275 – Construction Dancer Morty | #276 – Cowboy Dancer Morty | – | – | – |
| #278 – Christmas Sweater Morty | #279 – Elf Morty | #280 – Santa Morty | – | – | – |
| #296 – Purge Morty | #297 – Purge Suit Morty | – | – | – | – |
| #299 – Cob Morty | #300 – Gangster Cob Morty | – | – | – | – |
| #302 – Easter Egg Morty | #303 – Chick Morty | – | – | – | – |
| #305 – Roller Disco Morty | #306 – Roller Derby Morty | – | – | – | – |
| #308 – Doctor Morty | #309 – Surgeon Morty | – | – | – | – |