The Tap Titan series is probably one of the most famous tap games on the mobile market. With over 10 million downloads across the different app stores, Tap Titans 1 and 2 are a massive success. Many people play these games every day, to level up, kill bosses, and cut some time.
Leveling up your characters is needed, to clear all the stages, as bosses become exponentially stronger. When we cant push further, it is highly recommended to prestige our main hero too. When we increase our prestige level, we get set back to the early stages, but we receive relicts, skill points, and raid XP depending on how many stages we cleared up to this moment.
Most of the time, increasing your prestige should work without any problems, but a lot of people had some issues with this. If you can't prestige, here are a few reasons that could cause this issue.
If you're finding it challenging to prestige in Tap Titans, it might be worth exploring how this mechanic differs in other idle games, such as the comparison between Tap Titans 2 and a similar game like Clicker Heroes in our detailed analysis.
You didn't reach the stage cap until now:
Let's start with the simplest issue in the beginning. To prestige your character, you have to reach and clear stage 60. Reaching this cap does not need much time, so if you are not at this stage, try to clear it to be able to prestige.
No internet connection:
Another reason why you can not prestige in Tap Titans is that you do not have a stable internet connection. If you play Tap Titans offline, you can do most of the tasks, but to prestige, you need a stable internet connection.
Bugs:
This should not happen very often or even at all. Still, if you can not prestige even if you're connected to the internet, it is recommended to restart the game. If this step didn't solve the problem, you could also try to reinstall the game. However, you should connect your account with an email address, so you do not lose all of your progress.
Device Blocked:
If Tap Titans display you a message that you can not prestige because your device is blocked, this is usually due to your device clock. If you have traveled to another time zone, the game needs some time until features like prestige or idle gold work again as usual.
For example: If you have traveled from the Pacific Standard Time (PST) to the Eastern Time Zone (EST), there is a three-hour time difference. You then have to wait these three hours, until idle gold and prestige work again.
If you have manually changed the date on your smartphone forward, you will be locked from such features for the allotted time or the next update.
I got no relics after a prestige:
Skill points, artifacts, and relics are stored on the servers, so there is sometimes a small delay. Try to re-open Tap Titans and see if they arrived.
Frequently Asked Questions (FAQs)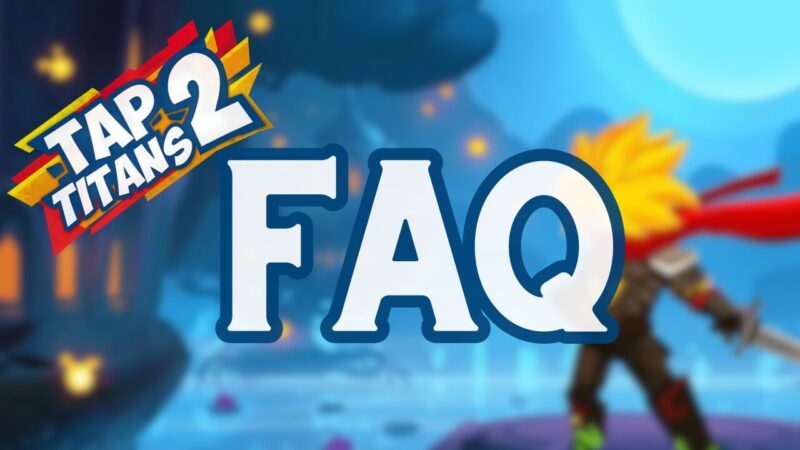 1. I've heard tales of Clans. What are they?
Clans are gallant groups of players, who form alliances to bring down colossal Clan Titans. Join forces with friends, or dare to venture into unknown clans. Share tips, enjoy Clan Rewards, and wage epic wars!
2. How can I get my hands on more diamonds without parting with my gold coins?
Ah, diamonds, the sparkly delight! Besides purchasing, you can earn them through daily rewards, achievements, and watching videos. Keep an eagle eye on special events and fairy bonuses too!
3. The Titans are getting tough! Any nifty tips on how to boost my damage output?
A keen observation! Boosting your damage is an art. Focus on upgrading your heroes, acquire artifacts that enhance damage, and deploy skills wisely. Don't forget to engage in Clan Quests, which can offer damage multipliers
4. I hear whisperings about "Tournaments". Are they real?
As real as the blade you wield! Tournaments are grand events where players from yonder lands compete for glory and loot. Sharpen your skills, ascend your heroes, and lay claim to the spoils of war
5. I desire new challenges! How frequently do the creators bless us with updates?
Fear not, brave soul! The Tap Titans realm is ever-evolving. Game Hive, the architects of this world, tirelessly forge new content, features, and bug fixes. Keep your blades sharp and your wits sharper, as new challenges descend upon the land frequently!
---
There you have it – an adventurer's guide to the mystic realm of Tap Titans! So grab your gear, summon your courage, and let the tapping begin. May your taps be swift, and your rewards, plentiful. Onward!