Everyone who watched the series South Park or at least a little bit knows that the series has its own style. And as Ubisoft (which also made South Park: The Stick Of Truth) announced that they will release a new South Park game for mobile, I was hyped to play the game.
As the game is now on the market for some time, I want to share my experiences in this South Park Phone Destroyer review. But before we dive into the details, here are some data about the current game.
South Park Phone Destroyer is a real-time strategy game (gotcha game) in which you can play a new story in South Park, fighting powerful foes and completing your mission. The game got released back on the 9th of November 2017 by Ubisoft, RedLynx, and South Park Digital Studios, for iOS and Android.
How is the gameplay of South Park Phone Destroyer?
Mobile games are limited in specific areas, like in fact of animations, graphics, or controls. Luckily, the developers decided to use simple controls for the game. However, when you start the game for the first time, it will introduce you to the mechanics of the game.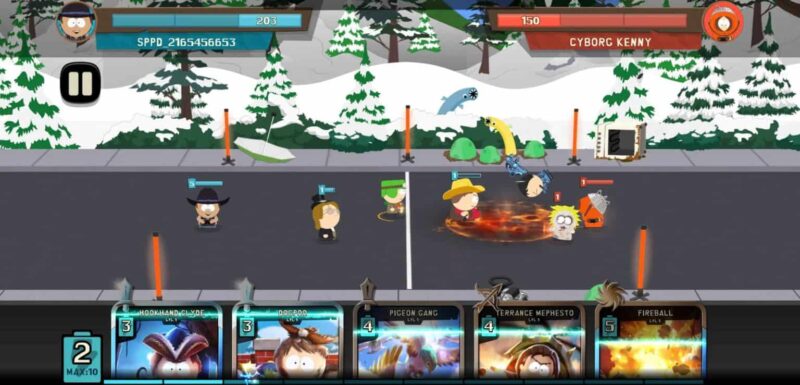 Throughout the first few levels, you will learn everything you need to know about the three classes (assassins, tanks, and fighters) and their unique abilities. If you know the series, you will recognize many of the main characters, and also some side-characters. After completing the first 5 stages, you'll get introduced to the games online multiplayer as well.
To defeat your enemy, you have to get his health points down to zero and to attack, place your characters on the field. But to summon one character from the deck, you have to have enough energy.
Note: You can only have 12 cards in your deck, so if you get far into the game, you can create powerful lineups to climb the PvP ladder.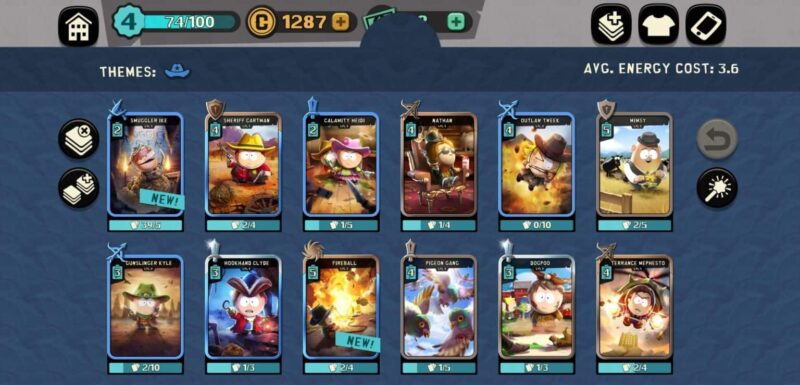 This energy gets represented in a blue bar that recharges consistently. Every time you summon a fighter on the battlefield, a set amount of your energy storage gets consumed. The maximum amount is currently ten, and characters differ widely on how much energy they need to get summoned. Tanks and more powerful characters need more energy than weaker cards.
This system makes sure that nobody can spam units on the battlefield, and overpower its enemies. However, you can still beat your enemies by playing the right cards at the right time. Phone destroyer doesn't look that strategic at the beginning, and if you clear more stages or climbing the online ranks, it gets way more difficult. Having a good strategy can save you many times.
During my playtime, I stuck at some levels, especially by defeating Ninjew Kyle. This fight is tough without having a decent lineup that can counter his powerful cards like Token or Timmy.
If you manage to defeat the boss during the fight, you can collect more cards and get other drops that can be used to power up your characters. By upgrading them for five times, you can increase their level by one. Each upgrade increases the character's hp, attack, special attack, or other stats, so having some strong units can be helpful to lear stages easier.
The whole game is entertaining to play (especially conversations between the characters), and everyone can learn it very quickly. Honestly, it's hard for me to find bad things in the game; however, there is one which I want to discuss a bit later.
How is the multiplayer mode of the game?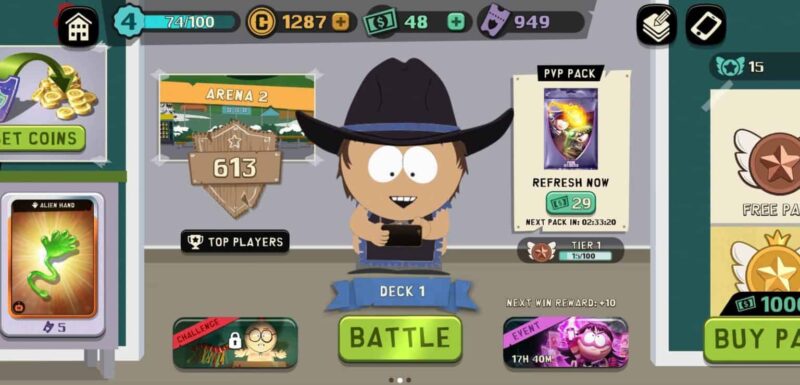 You can enter the multiplayer mode by going to the main screen and tapping on Butters PVP house, and to search an opponent, tap on the battle button. The matches follow the same rules regular fights, but your opponent is probably smarter than an AI.
By winning or losing matches, you eighter gain ranking points, or lose them. Also, if you can manage to climb the rankings, you unlock a battle pass that gives you some free stuff, and new arenas, where you can find new cards.
After each won match, you can also open some lockers, in which you can find battle tickets, cards, or other loot. These tickets can be used to buy new cards or upgrading material in the shop, so if you collect enough of them, you could get a new card for your deck.
However, it sometimes takes a while to find a worthy opponent, especially early in the morning or late in the afternoon. Luckily, most of the time, it finds matches pretty quickly.
Graphics and details:
Well, what should I say … , it looks like South Park. But thats not really a bad thing, as the graphics, animations, artworks, and music/sound effects are well done. Cards have fantastic artworks, and we can find characters from all over the series like Coon, Human Kite, or Mysterion.
There is nothing to complain about this point. Honestly, I would be disappointed if the game doesn't look like how it is now.
Should you spend money on the game?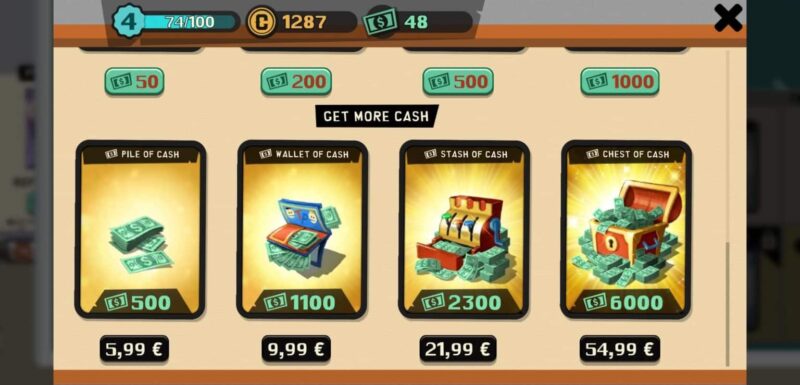 I played a lot of games over the years, and most free games on mobile, PC, or console offered some items or other in-game power-ups that people can buy if they want. We can find multiple of these offers while playing South Park, which gives you more cards, coins, or cash, which represents the in-game currency.
There are currently 4 packs of cash that you can buy:
| | | |
| --- | --- | --- |
| Package name: | Amount of Cash you get: | Prize: |
| Pile Of Cash | 500 | $4.99 |
| Wallet Of Cash | 1100 | $9.99 |
| Stash Of Cash | 2300 | $19.99 |
| Chest Of Cash | 6000 | $49.99 |
With this currency, you can buy packs of cards, or coins to power up your characters. There are multiple packs that you could buy, from which each offers unique traits. Spending money on the game enables you to get useful cards much faster than without spending money.
This is a huge advantage in PvP, and even in the story mode.
However, by spending money early on the game makes the game less fun, as you literally rush trough all stages and matches in the beginning. Personally, I wouldn't spend money on the game, but if you want to climb to the top ranks in PvP, buying packs make it easier.
Last words of the review:
South Park's mobile game makes a lot of things right, and it is a lot of fun to play. But it can also be frustrating if you can't beat a stage or encounter a much stronger opponent in the PvP mode. I had both of these situations multiple times during my playtime.
When I found this game, it one of my first strategic card games, so it went straight into my top mobile games. And as I also played South Park: The Stick Of Truth, I was very hyped to start. New events and regular updates keep the game fresh and exciting, so it also offers some long term potential to us.
So if you are interested in the South Park franchise and card games, give this game a shot and download it on your phone. Besides this, if you already played the game previously, feel free to share your experience in the comments with us.
---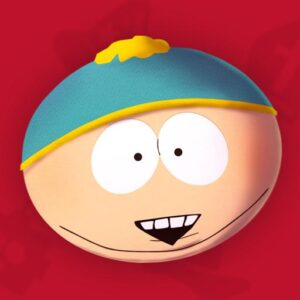 SOUTH PARK PHONE DESTROYER FOR ANDROID
SOUTH PARK PHONE DESTROYER FOR IOS
---
| | |
| --- | --- |
| ?? Pros of Phone Destroyer: | ?? Cons of Phone Destroyer: |
| Fun to play | Some stages are extremely hard to beat |
| Great humor | |
| Challenging | |
| Online multiplayer | |
| Excellent graphics and artworks | |
| Great sound effects | |
More screenshots from the game: