Call of Duty: Warzone is only a few months old but already received multiple patches and updates, in which new weapons, the map, and other game mechanics got changed. Unfortunately, most online multiplayer games had problems with their balancing and in-game monetization. Pay to Win is a massively discussed topic in the gaming industry. Some people don't like it at all, and some are ok with it when a game publisher includes P2W in their game. Call of Duty: Warzone is no exception, however:
Call of Duty: Warzone is not Pay to Win. Every player who decides to start the game has the same chance to win as any other player. However, a player who does not own the main title, Call of Duty: Modern Warfare, cannot unlock new weapons and other Battle-Pass items or only by completing special unlock missions.
Such missions can be easy to complete, even in COD Warzone, however some tasks to unlock a weapon can be quite difficult as well. For example, to unlock the Grau 5.56, the player has to eliminate 5 other players in a minute for 25 times. To unlock the Bruen Mk9, the player has to eliminate 3 players near smoke 15 times.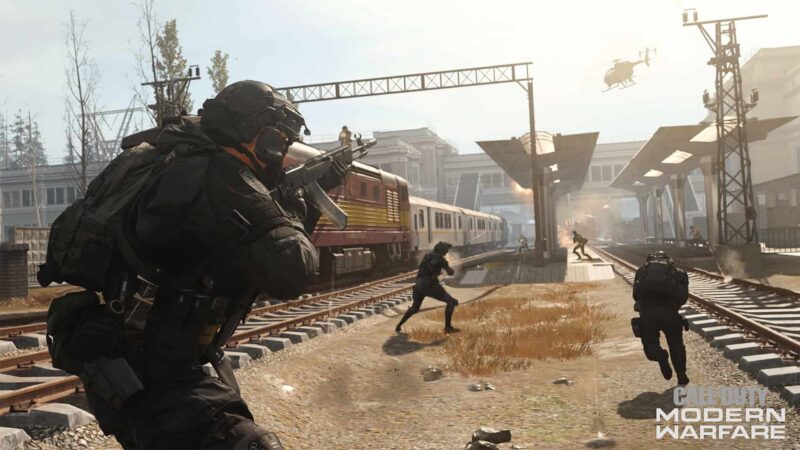 Both of these weapons count as the strongest weapons in Call of Duty: Warzone, so everyone wants to unlock and play with them. However, as easy as it is for a player with access to the regular COD: Modern Warfare multiplayer, completing such highly difficult tasks takes ages as someone who can only play Plunder or Battle Royale.
Side note: F2P players start with regular load-outs, which are pre-made by Activision. By reaching level 4, the player unlocks the loadout editor, enabling him to customize different load-outs and use them in Warzone.
Unfortunately, this is not the only problem in COD: Warzone. In the past, many players discovered bugs in the game, which allowed players that have access to the battle pass, to abuse these specific bugs.
Pay to win M14 EBR blueprints – Part 2 with new evidence – see comments
by u/ChickenYug in CODWarzone
In April 2020, the Reddit user ChickenYug showed in his short video an M14 EBR with the regular skin, and one with the "Line Breaker" skin. The M14 with the regular skin deals the regular amount of damage (breaks all armor plates with a headshot), however, the Line Breaker M14 one-shots his friend.
Please note that this bug is already fixed by Activision, so the M14 EBR can't one-shot people like this anymore. Also, having difficult unlock-missions in the game does not make the game Pay to Win. Sure, some things should be changed a bit, so F2P players can unlock weapons a bit easier, but the core game is entirely free to play.
If you want to learn more about Call of Duty: Warzone, make sure to read our game review over here.
Conclusion
So, fellow joystick warriors, let's chat about this colossal elephant in the room: the titanic debate of 'Pay to Win' (P2W). I mean, is it just me, or does the mere mention of P2W send shivers down our collective gamer spines? The uproar is real. It's like a digital storm, and Warzone is the latest thunderclap. But wait, there's more!
Breathe in. Take a step back. Contemplate. Did Call of Duty: Warzone burst through the barricades, guns blazing, defying the P2W norms?
A cacophony of opinions and digital debris (read: Reddit threads and videos) float around this mesmerizing labyrinth we call the internet. ChickenYug's escapade with the M14 EBR is just the tip of this iceberg. Whoa! One-shot with a Line Breaker skin? This isn't an enchanted bow from a fantasy realm. That's some serious firepower.
But, lo and behold! The magical wizards behind the scenes (read: Activision's diligent team) waved their wands, and poof, the bug vanished like the last slice of pizza at a LAN party.
Now, let's hop onto a chopper and do a flyover of the Warzone. The battle is intense, the landscape rugged, and the goals, oh, they demand blood, sweat, and nimble fingers. Does owning Modern Warfare give some folks a leg-up in armory? Yes siree! The Grau 5.56 is locked away like a damsel in distress and, man, it needs some serious heroics to save it.
But here's the deal – it's not an impenetrable fortress. Free-to-Play players, don't you fret! With some grit, tenacity, and, okay, a sprinkle of obsession, even the Grau can be yours. And let's not forget, the Loadout Editor is ready to embrace you at level 4!
So, is Warzone's fiery arena truly for the big spenders? Nay, I say! It's an open playground – a gladiator's Colosseum if you will – where honor, skill, and determination reign supreme.
So grab your weapons, calibrate your aim, and plunge into the storm! Let the echoes of your victories reverberate through the digital realm. Onwards, to Warzone!