Having only your gaming setup's main components, like monitors, keyboards, mouse, and mousepad on your desk, looks a bit empty. To make a gaming setup look better, most gamers add fancy or unique accessories to it, like acoustic panels, posters, stream decks, custom lighting, etc. Such accessories can also be helpful gadgets that make specific tasks more comfortable.So, if you want to make your gaming setup more interesting and unique, here are the best accessories for you:
A Stream Deck
Acoustic Panels
Customizable Smart Lighting
Custom Headset Stands
Plants 
External USB Hubs
Monitor Stands And Wall Mounts
Professional Gaming Headsets
Mechanical Keyboards
A Gaming Controller
A Sensitive Gaming Mouse
Large Gaming Mousepads
External Speakers
Gaming Chairs
External Microphones
Wireless Phone Charger
Gaming Monitors
Cable Clips And Sleeves
Tip: Don't forget to consider the energy implications of your gaming PC while planning your ultimate gaming setup. This is an often overlooked but crucial aspect that can influence both the performance of your PC and your utility bills.
A Stream Deck To Control your Setup: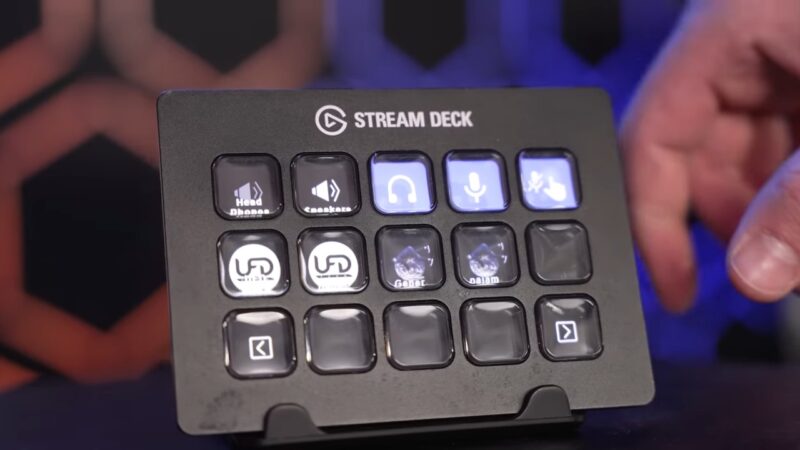 A Stream Deck is a small gadget, which got developed for streamers. However, a Stream Deck can also start applications on your PC, turn on/off lightning, play sounds on your PC, and more. If you want to stream on Twitch or YouTube , having a Stream Deck makes everything much more comfortable. You can switch between your monitors and games, play sounds, announce your stream on Twitter, or post greetings in the chat by clicking an individual key.
Elgato offers three versions of their Stream Deck either with 6, 16, or 32 keys. The smallest version, the Elgato Stream Deck Mini costs $91.50, the medium version $149.95, and the largest version with 32 keys $249.95.
Maybe this gadget seems kinda pricy, however, if you stream on a continuous basis, or do it to earn your money, having such a helpful gadget is definitely worth the price. Even non-streamers can use this gadget daily. It works with programs like Elgato game capture, obs, stream labs, Twitch, YouTube, Twitter, Mixer, Spotify, Philips HUE, vMix, voice mod, and more.
Acoustic Panels:
While gaming, many people like to record their gameplay and audio for their YouTube channel. Unfortunately, when your room is quite big and doesn't have many things in it, the audio will suffer slightly. To get the best audio quality while recording your voice or music instruments, people install acoustic panels on their walls, to mitigate noise and reduce the reverberation and echo in an area.
Not only help these panels to reduce echo and reverberation, but they also look excellent with a clean gaming setup. Panels can be purchased in many different colors, such as blue, red, purple, black, and white, but also in various forms.
Customizable Smart Lighting:
Proper lighting makes an enormous difference, compared to setups without any lighting. There are many options to add lighting to your setup, like LED strips, Phillips Hue, Nanoleafes, or LED strips combined with Alexa. Usually, the integration of smart lighting systems like Phillips Hue is straightforward and only takes a couple of minutes. But this depends on the size of the system.
Many additional accessories can be added for a more fancy lighting setup, like motion sensors or extra buttons. When money is not an essential factor, you can install smart lighting bulbs in your entire gaming room, add some LED light strips, and link it with Alexa or Google Assistant. Most of the lighting systems on the market can display up to 16.8 million different colors, allowing you to create your own lighting theme.
If you don't want to spend a lot of money, you can also buy some cool looking lamps and install only one light bulb in it.
Custom Headset Stands: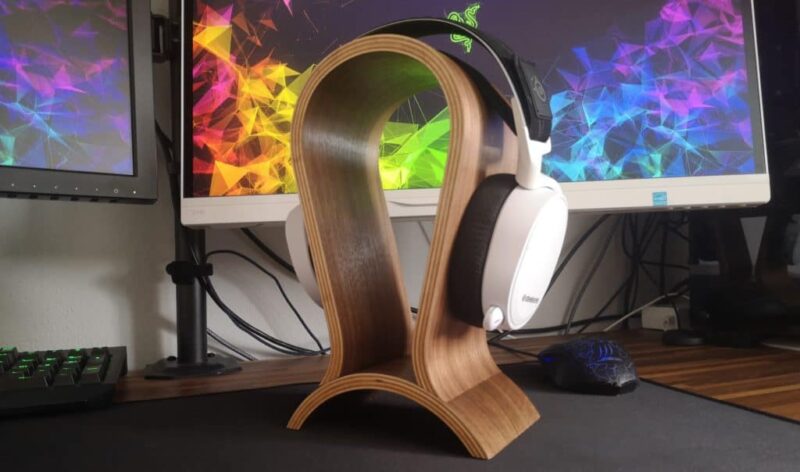 Having things lying around on a gaming desk not only hinders you, but it also doesn't look good. Especially headsets should be stored right, as a decent gaming headset costs $100-$150 or more. So, adding a headset stand to the setup will solve this problem. Headset stands are especially helpful for anyone who owns multiple headsets, or an entire collection.
Depending on your desk design and which colors you use, there are many options you can choose from. There are simple but good looking wooden headset stands for about $25 on Amazon and special ones with RGB lighting.
If you're a fan of RGB, I recommend taking a look at Razer's or Corsair's headset stands, as they have excellent quality and RGB. On the other hand, if you want to hide some of your headsets, going for a headset stand that can be mounted under your gaming desk is recommended.
Plants:
Adding a few plants to gaming setups works almost every time, as they bring some new colors and life into the room. If you only have little time to take care of real plants, going for small fake plants would be the best solution. Just make sure to wipe down the dust once in a while, so no one finds out your secret too soon.
Another popular option is adding small terrariums with a little fake plant in them. But let's be real, having a few natural plants is much cooler. For someone who forgets to water plants every few days, cacti are the best planting options.
However, I don't recommend going for large fake plants or fake flowers, as they don't look that well most of the time, so I would rather stick to smaller plants.
External USB Hubs:
Before making the final purchasing decision, it is crucial to know how many USB ports the motherboard and PC case has. If you have many components that require a USB port, but you don't have enough of them, installing an external USB hub will solve the problem.
Such external USB hubs are available in all different sizes, giving you the option to add up to 10 or more new USB slots. The installation process is also straightforward, as you only have to connect the external hub to your gaming PC.
To make the setup look better, I highly recommend installing the hub under your desk using double-sided tape. Another fact that speaks for external hubs is that they are very cheap and only cost a couple of dollars. For instance, a USB 3.0 hub with 4 ports can be purchased for $10-$20.
Monitor Stands And Wall Mounts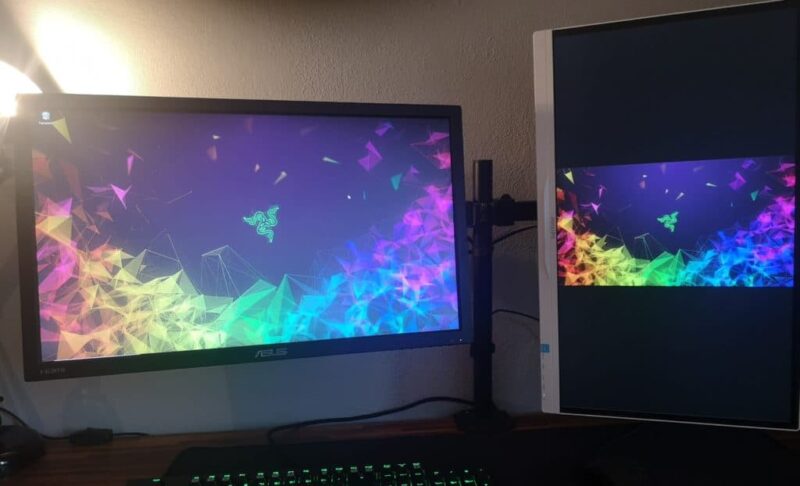 To keep everything organized and add more room for a better gaming experience, most gamers add a second or third monitor to their gaming setup. However, having multiple monitors standing on a desk takes a lot of space, so installing a wall mount or monitor stand is generally popular.
Not only does it look much better, but monitor stands/wall mounts also give you the option to adjust the angle, height, and position of each monitor. With some mounts/stands, it's even possible to turn the monitor by 360°
Not only that, but cable management also becomes a bit easier, and you can install LED light strips at the back of each monitor for additional lighting.
With monitor stands, you can mount up to 6 monitors; however, they become quite large and heavy, so going for a high-quality product is recommended. With wall mounts, you can't hold as many monitors as with a monitor stand, as most of them only support two monitors at once. If you want to have three or more monitors mounted on a wall, I recommend purchasing three single-monitor wall mounts instead, as they give you more room for adjustments.
A Professional Gaming Headset:
Switching from a regular headset to a professional gaming headset can make a massive difference in your gaming performance. With a decent gaming headset, you can hear sounds and locate sound sources much better, as they are more sensitive and feature better sound quality. Most proper gaming headsets also provide surround sound, enabling players to locate other players even easier.
Another fact that speaks for gaming headsets is that they have integrated microphones with better audio quality. An example of this would be the Logitech Steelseries Arctis 7, which has one of the best microphones on the market, which also suppresses background noise.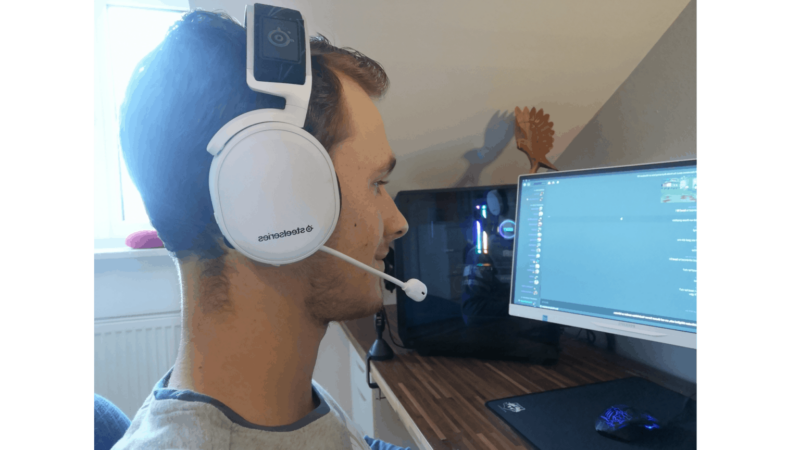 Besides providing high audio-quality and a decent microphone, comfort is another crucial factor for a gaming headset. During a long gaming session, the headset shouldn't create a lot of pressure on your head, especially if you wear glasses.
When choosing a gaming headset, you have two options to choose from. Do you want a wired or wireless headset? With wireless headsets, you don't have a cable that needs to be connected to a PC, so you can walk into other rooms while still hearing everything. With wired headsets, walking to other rooms is impossible; however, you don't have to recharge them, which is required with wireless headsets.
Side note: I don't recommend going cheap on a gaming headset, as it is a component that you will need daily, and makes a big difference in your gaming performance. For $70-$150, you can get some good headsets for gaming, like the Razer Nari, the Corsair HS70 Wireless, or the Steelseries Arctis 7.
Mechanical Keyboards: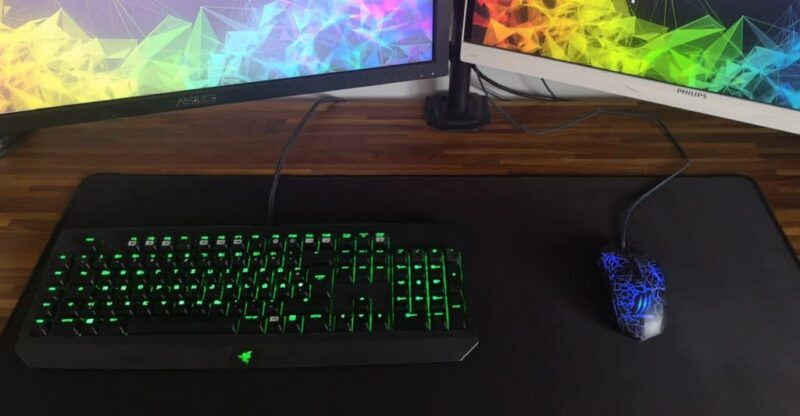 Mechanical keyboards are another component, which makes a difference in your gaming performance. They feature rapid response times and additional keys/macros, which are handy for gaming. Depending on your needs and setup, you can choose between regular-sized keyboards, or smaller 60% boards with no Numpad. Pro gamers like to use 60% keyboards as they don't cover a big area, which gives them more space for their mouse.
In addition to good build quality, most of today's gaming keyboards have customizable RGB backlights, which look amazing and make it easier to write/play when there is not enough lighting. Also, to make gaming and writing more comfortable, some brands include a detachable soft wrist rest.
Like with gaming headsets, mechanical keyboards are also available with a wireless connection. A recommended wireless keyboard is the Corsair K57 RGB Wireless, which has response times under 1 Ms, RGB backlighting, macros, and up to 175 hours of battery life. However, wireless keyboards usually cost more than their wired counterparts and need to be recharged once in a while.
A Gaming Controller:
In most games, playing with mouse and keyboard give the player better control over his character and movement. However, playing with a controller is the better option in some games, like in Rocket League, Assassin's Creed, or Cuphead. Based on your preferences, you can choose between wireless/wired Xbox or Playstation controllers.
Please note that not all gaming controllers on the market are well-made, especially cheaper products. Before buying a controller, read some product reviews, or stick to original Xbox/Playstation controllers. Also, if you go for Bluetooth controllers, make sure your PC supports Bluetooth connections. If not, adding a Wireless Adapter is needed.
A Sensitive Gaming Mouse: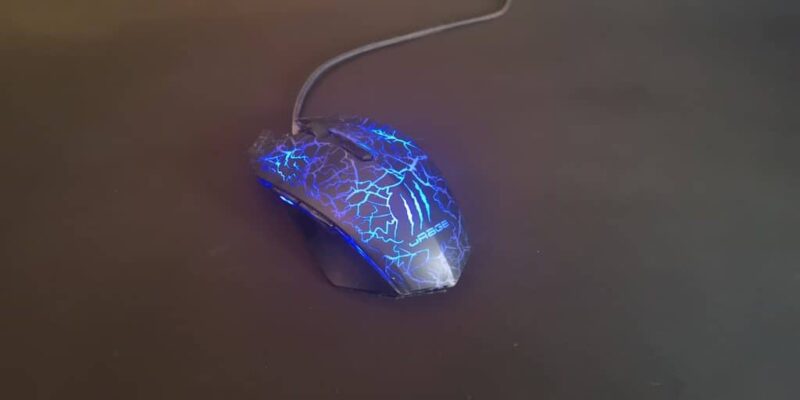 One of the best accessories for a gaming setup is a fast responding and sensitive gaming mouse. Your mouse should fit into your hand perfectly, offer a sensitive sensor, multiple DPI stages, quick response times, and at least 2 additional buttons. Depending on your preferences, being able to change the weight of the mouse would be another feature it should have.
A sensitive sensor and multiple DPI stages give you excellent response and control, making it easier to aim at a moving target, which is crucial in FPS games. Also, the mouse should respond as fast as possible, after registering a click on a button. A great example of a premium gaming mouse would be Razer's Deathadder V2, which registers button presses at the speed of light.
If you don't want another cable on your gaming desk, choosing a wireless gaming mouse is the best solution. However, please note that going for a cheap mouse could result in lags and low battery life. Quality mice should offer long battery life, plus short recharging times. If the cable is not a problem, going for a wired mouse is recommended. Suggested gaming mice are:
Razer DeathAdder V2
Logitech G502 Lightspeed Wireless
Corsair Ironclaw RGB
Large Gaming Mousepads: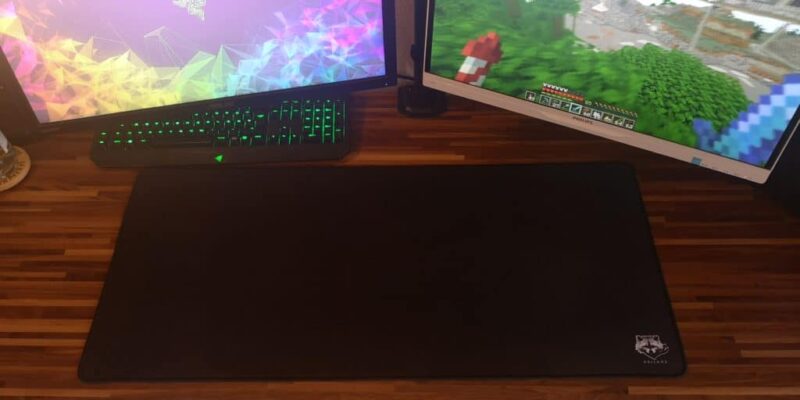 A gaming accessory that everybody needs is a large mousepad. Such mousepads give you much more space than regular-sized mousepads, better comfort, and support accurate mouse movement. Also, they don't move around on your desk, which happens with smaller versions.
Pro players like to use such large mousepads, as it enables them to play with lower DIP stages, making it much easier to land precise shots in FPS games. For a more fancy setup design, mousepads are also available with RGB lighting, and sometimes with an integrated USB hub.
Additionally to their advantages, XXL mousepads are very cheap. Without RGB lighting or a fancy design, we can find them online for $10-$20. For a more fancy design or limited editions like the QCK Prism Cloth Neon Rider Edition from Logitech, expect to pay more than for a regular mousepad.
External Speakers:
For everyone who likes to hear music while working or gaming on the PC, adding a pair of external speakers to the setup is always a good choice. Decent PC or Bookshelf speakers such as the Klipsch R-41M cost between $100-$200 and guarantee fantastic sound.
Managing and hiding the cables could be a bit of a challenge; however, Bookshelf speakers provide the best sound quality, and they fit in almost every gaming setup. Note that adding a subwoofer to a pair of speakers lifts the music quality to an even higher level.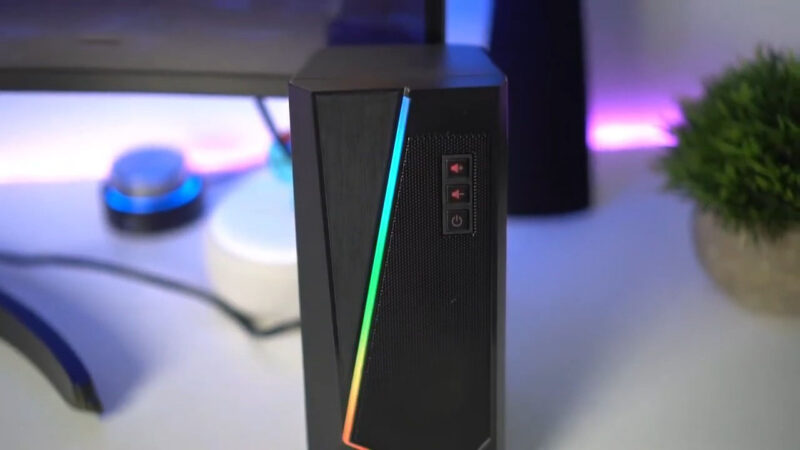 Gaming Chairs:
A good and comfortable chair is another must-have accessory for every gaming setup, as they look excellent, and make sure the back does not hurt after an intense gaming session. Gaming chairs are available in all different color schemes and forms, so it is easy to find one that fits your setup.
A popular choice to save money is to buy an office chair, as they cost a bit less than a proper gaming chair. Speaking of which, a chair with decent quality can be purchased for $150-$180 already. With increasing quality, the price also steadily increases, so if you want a premium gaming chair, expect to pay $300-$600.
Such expensive chairs like the SecretLab OMEGA are made out of Prime 2.0 PU Leather, SoftWeave Fabric, or Napa Leather to give you both excellent comfort and great support. Less expensive but also a good chair for gaming is the GTRACING Gaming Chair, which sets itself at $170-$184.
External Microphones: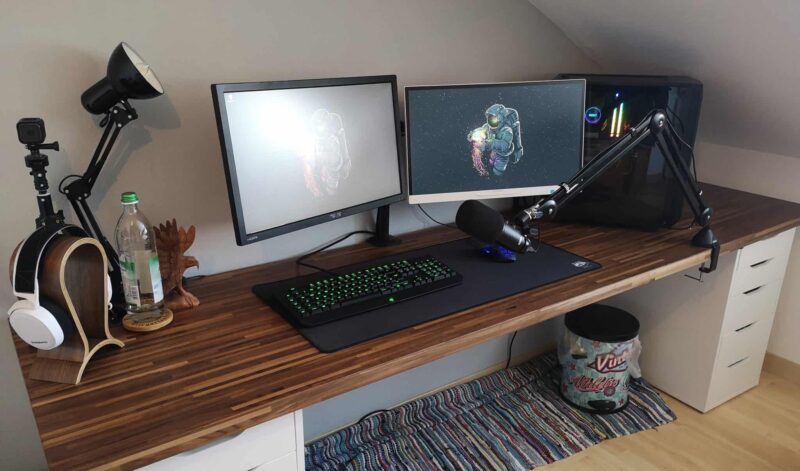 As already mentioned, having a good microphone integrated into your gaming headset is recommended, but if you want to take everything a step further, there is no way around an external microphone. Going for an external mic is especially recommended if you're going to upload videos on YouTube, or stream on Twitch/YouTube.
Purchasing a mic that can record audio in high-quality doesn't have to be super expensive, as decent mics like the Rode NT-USB or the BlueYeti USB only cost $150-$200. However, the best external microphone which is available is the Shure SM7B, which costs $400. Such professional studio microphones are used to record songs, podcasts, or even instruments.
Most gaming headsets sacrifice the quality of their integrated microphones, to produce the best possible sound quality. If the headset is wireless, there is even less space available for a good microphone.
Wireless Phone Charger:
While gaming, most people have their phone nearby, so they can look at it once in a while. Installing a Qi-Certified wireless phone charger is an excellent way to personalize your gaming setup while making it much more comfortable to charge your phone.
Depending on the charger, you can simply install him under your desk, so you don't have any cables visible. There are also chargers available in the form of a phone holder, like the Anker PowerWave Stand.
Gaming Monitors:
One of the most essential accessories for gaming is definitely the gaming monitor, which displays all of your games. Modern monitors can display 244 Hz or more, but 144 Hz is the expected standard. Going for a monitor with 60,70, or 85 Hz, is no longer recommended, as they can't display fast movements clearly as monitors with higher refresh rates.
Monitors with refresh rates under 144 Hz use a lot of motion blur to display fast movements, which is why everything feels a lot smoother on a 144 Hz display. The higher the monitor's refresh rate, the more images get displayed per second, so if you switch from 60 to 144 Hz, your monitor displays more than 2x images per second.
Note that a proper gaming monitor should also have a response time of 1Ms or less, so you can react as fast as possible. And to bring your entire gaming setup on another level, consider adding a second or third monitor, and mount them on a monitor stand/wall mount.
Cable Clips And Sleeves:
Cable management without the right tools and accessories is a real pain, so many people do not even try to hide all their cables. Cable clips are small helpful plastic pieces that can be used to hold all sorts of cables into place, as they can be mounted onto most surfaces.
Having many cables lying/hanging around on/under a gaming desk looks bad and hinders your movement. Also, there is a chance that you hit a cable with one of your feet, maybe unplugging it from the PC or damaging other items on the desk.
Using cable clips and sleeves, you can hide all of your cables, making your setup look clean again. Another factor that speaks for cable clips and sleeves is that they are quite cheap, and a package only costs a few dollars online.
If you want to know some more tips to make your gaming setup look better, check this list here.
DIY Enhancements: Personalize Your Setup
Unleash your creativity and give your gaming setup a personal touch with some DIY enhancements. From cable management solutions to custom-built accessories, the possibilities are endless. Build your own joystick or control panel for retro gaming nostalgia, or design a customized mousepad with your favorite game art.
Explore DIY projects online, where you'll find step-by-step guides and inspiration from fellow gaming enthusiasts. Not only will these enhancements showcase your individuality, but they can also improve the functionality and aesthetics of your gaming space.
Conclusion
Optimizing your gaming setup with the right accessories and DIY enhancements can greatly enhance your gaming experience. From ergonomic essentials for comfort and performance to immersive audio solutions and personalized touches, there are countless ways to take your gaming setup to new heights. So, explore the options, unleash your creativity, and get ready for an unparalleled gaming adventure! Happy gaming!