I'm a big fan of the Sonic universe, even I didn't play all of his games yet. However, when a character is so famous (and iconic), we can find lots of games for consoles or mobile. There are many good ones, but also many bad ones.
Sonic Dash, which got released by Sega (developed by Hardlight) on March 7th, 2013, is not the youngest game anymore, but this doesn't mean it's not entertaining.
Before we begin diving into the exhilarating world of Sonic Dash, it's worth mentioning that if you're into games with explorative 3D voxel-based environments, you might also find our analysis of the Cube World game intriguing.
What is the game about?
Sonic Dash is a 3D running game, which gameplay concept is pretty similar to the Tempel Run series. If you play the game for the first time, you can only play as Sonic, and by collecting enough rings or building houses, you can unlock new characters like Tails or Amy.
There is no real goal during the game, besides setting high scores over and over again, unlocking all characters, and getting all achievements.
But running games can be very entertaining. With over 100 million downloads, the game was a big success and gave Sonic a new chance to prove himself.
Sonic Dash Trailer:
How is the gameplay of the game?
The game follows the regular running game mechanics: swipe left or right to move to the left/right, swipe up to jump over objects, or swipe down to roll under obstacles. Swiping down also works like the iconic spin attack, which can destroy some enemies and gives you a small speed boost.
While running through the game, you can collect golden rings that can be used to upgrade specific power-ups like the ring magnet, shield, or sprint. Each time you increase the level of a power-up, the number of rings you need increases too.
Note: Collecting golden rings also charges your Dash, which makes you invincible for a short time, and gives you a substantial speed boost.
Also, like in many other endless running games, the more distance you make, the faster the overall game gets. When I played the game for the first time, it surprised me how fast the game could get.
During a run, we have to avoid obstacles and enemies (some type of robot, I guess), jump over cliffs, and fight Dr. Eggman in his fly (space) ship. If you miss the correct timing, you could fall off a cliff or miss the final blow to Dr. Eggman's ship. So you leave a lot of points on the table.
If you run against an obstacle, the run will end, but the game gives you a second chance by watching an advertisement or spending two red star rings. But as these are rarer than regular rings, I wouldn't waste them (and you can buy characters with them).
However, if you run into a robot and you have enough rings collected, you will only lose rings and not get defeated. By destroying robots during your run, you can save pets that you need to build houses.
Each house is located in a different zone, so you need different pets to build all homes to 100%. By playing with specific characters, you can get a 2x multiplier at the end of your run, which makes it much easier to farm pets.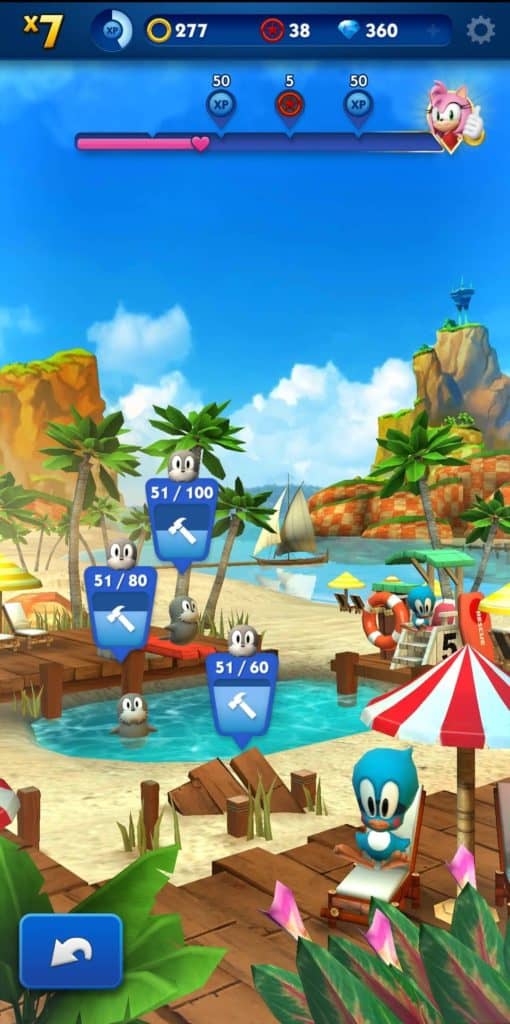 The game plays super smoothly, and small quick-time events by jumping over cliffs and to other zones are a nice difference to other games. The game also gets more challenging the higher the score gets, so having a dash ready can be life-saving.
While playing the game, I didn't encounter any bugs or other issues as the game is pretty old and received many fixes in the past already.
Graphics and details of Sonic Dash:
There are a lot of Sonic games out there that don't look very good on screen, but Sonic Dash is none of these games, as it looks excellent. The graphics are sharp and colorful, and the music fits the game perfectly.
If you defeat Dr. Robitnik in a fight, he also drops a voice line in his original voice. And as someone who loves the characters in Sonics universe, its super cool to hear the old man grumpy.
Since we can play a good number of characters, I expected to hear their voice. Unfortunately, this is not the case, although this would significantly improve the gameplay experience.
How long can you play this game?
Endless running games can be very addicting, as we want to beat our highest scores over and over again. Also, as a run usually doesn't take that long, they are great to cut some time.
The game doesn't offer any specific goals besides unlocking all characters and completing all achievements. Still, it is definitely worth it to start the game from time to time. But the game also has disadvantages, in this case, it is the in-game monetization.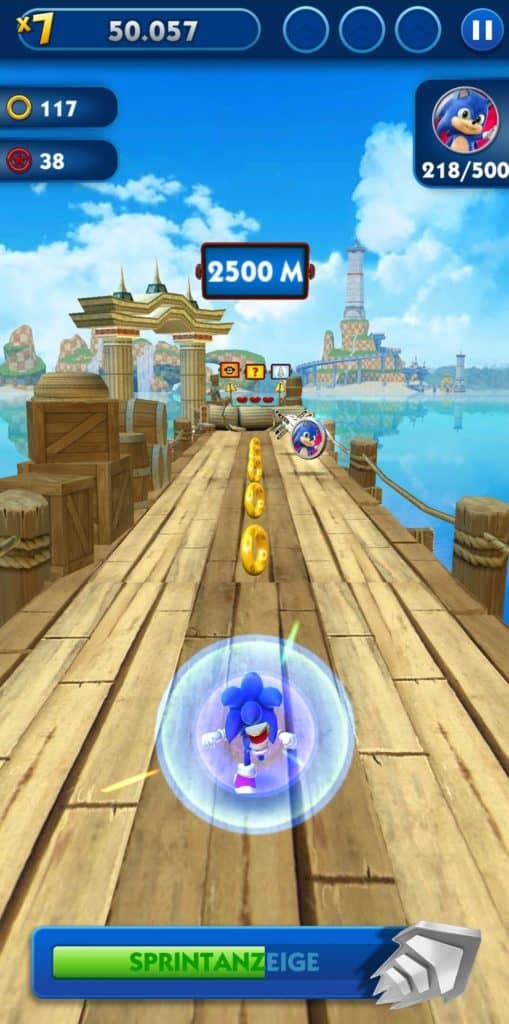 After each run, you have to face some advertisements like videos or banners. Most advertising banners can be skipped pretty fast, but video ads can take up to 30 seconds. That is way too long! It destroys the gameplay experience almost completely, as we have to wait half a minute to start the next run.
Luckily, besides the terrible ad placement after a run, the game is fantastic!
Do you have to spend money on this game?
Developing and updating games costs a lot of money, so developers have to make their money elsewhere if the game can be played for free. So, the game gives you options to buy golden rings, red star rings, or even characters for a few dollars.
There are also options to get a permanent 2x ring booster (doubles all collected rings consistently) and a free resurrection per run (costs 2 red star rings or watching an ad).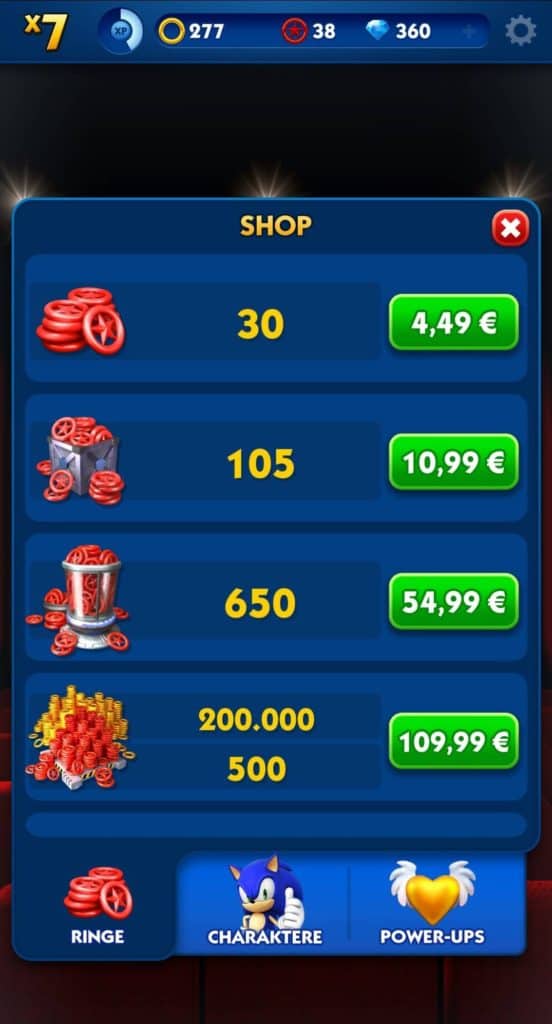 These buffs are not very game-changing, so I would say that there is no need to spend money on, as you can also get a resurrection by watching an ad or picking up a ring multiplier (during the run) to get more rings.
---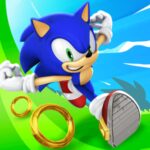 GET SONIC DASH FOR ANDROID
GET SONIC DASH FOR IOS
---
Pros
Fun to play
Many characters from the Sonic universe
Graphics & music are excellent
No needs to spend money
Easy controls
Changing zones
Frequently Asked Questions (FAQs)
1. What other characters can I unlock in Sonic Dash?
While the article mentions Tails and Amy, Sonic Dash actually features a wide range of characters from the Sonic universe. These include Knuckles, Shadow, and even characters from special events like Pac-Man.
2. Are there any strategies to collect more rings in the game?
Yes, there are several strategies to maximize your ring collection. For instance, using power-ups like the ring magnet can help you collect rings more efficiently.
3. How can I avoid the advertisements in Sonic Dash?
While the game does feature ads, there are ways to minimize them. One method is to play the game in airplane mode, although this may limit some features.
4. Are there any similar games to Sonic Dash that I might enjoy?
If you enjoy Sonic Dash, you might also like other endless runner games such as Subway Surfers or Temple Run. For Sonic fans, there are also other mobile games like Sonic Jump and Sonic Forces: Speed Battle.
5. Can I play Sonic Dash offline?
Yes, Sonic Dash can be played without an internet connection. However, some features like daily challenges and leaderboards may not be available offline.
Last words
I think that this game is perfect for you if you like endless running games and Sonic. The game does a lot of things right, but there are also some opportunities for improvement. But overall, I like the game and its mechanics, so I keep it on my phone.
Did you play the game, or did you hear about it already before this review? If you played it previously, feel free to share your experience with us in the comments!
In the end, while Sonic Dash offers an exhilarating experience for speed lovers, those seeking a more strategic and city-building endeavor might find Zero City a breath of fresh air.